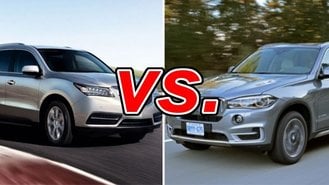 When Acura first appeared in the 1980s, comparing one of its cars to a BMW was laughable. Since then, Acura has learned a lot about producing luxurious vehicles that people want to buy. Case in point: the popular MDX midsize crossover.
The BMW X5 competes in the same segment, offering button-down luxury and inspired performance.
Both models hover at the top of this class, but which intrigues us more?
See a side-by-side comparison of the MDX & X5 »
What the MDX Gets Right
The MDX comes standard with a 290-horsepower 3.5-liter V6 engine, paired with a nine-speed automatic transmission. The base price also includes features like leather seating, driver memory, a sunroof, and a power tailgate. Needless to say, the MDX is equipped like a proper luxury vehicle from the start.
The MDX ranks as midsize and offers three rows of seating, but less interior room overall than the largest crossovers. That said, cargo space is undeniably generous at 91 cubic feet with the rear seats folded. The standard power-sliding second row is a welcome touch that allows third-row passengers to get in and out with dignity.
What the X5 Gets Right
The X5 offers you a choice five- or seven-passenger capacity (the third row is optional) and up to 77 cubic feet of cargo space.
The standard turbocharged 3-liter six-cylinder engine makes good use of its 300 horsepower, taking the X5 from zero to 60 mph in 6.1 seconds. The available diesel version isn't quite so fast, but delivers a few more miles per gallon. On the other end of the spectrum, there's a twin-turbo 4.4-liter V8 that produces 400 horsepower and puts the X5 in serious performance territory. BMW's sophisticated xDrive all-wheel drive system is optional on models equipped the base six-cylinder and standard everywhere else in the lineup.
What's More Important?
Because it's a BMW, the X5 is more concerned with handling than riding comfort, as are most of its buyers. That's not to say the Acura is cushy. In fact, the MDX is a remarkably well-rounded performer.
To say it all comes down to a choice between luxury or performance is an oversimplification that sells both cars short, but you get the idea.
Verdict: Acura MDX
If you're like most luxury crossover buyers, you'll appreciate the Acura's room and comfort more than the BMW's athleticism.
Take a closer look at the Acura MDX >>