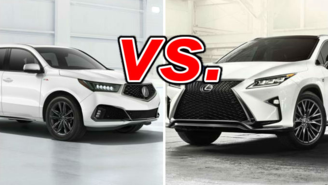 Acura and Lexus were once little more than cheaper alternatives to BMW, Mercedes-Benz, and Audi vehicles. Now they sit among the best of the best in the luxury-car segment, especially their useful and well-equipped crossovers. The Acura MDX and Lexus RX are two great mid-size options, but which is the best buy for your family? Keep reading to find out what we think.
See a side-by-side comparison of the MDX & RX »
What the Acura MDX Gets Right
The Acura MDX rolls in with a sharp design language that's far from boring, but also not polarizing like the Lexus RX. This puts it in a perfect styling cross-section for most buyers. This Goldilocks styling continues inside where the MDX boasts an elegant look and all the features to match the RX pound for pound, but the Acura separates itself with standard leather upholstery, while Lexus sourced its leather from cows on a steady diet of vinyl. Also, the MDX's 28.1 inches of third-row leg room and 36.6 inches of second-row leg room are more tolerable than the three-row RX's 30.8 and 23.5 inches, respectively.
If the base MDX isn't luxurious enough, buyers can add to it using the three packages that act almost like trim levels. These include the Advance Package, Technology Package, and A-Spec Package.
While the base Acura MDX cannot match the Lexus RX's power or straight-line acceleration, its Hybrid model trumps the LX 450h with its Acura NSX-sourced powertrain that produces 321 horsepower.
What the Lexus RX Gets Right
While the MDX forces buyers into a three-row crossover, buyers can get the RX in a two- or three-row setup. In the two-row model, the Lexus RX offers up to 38 inches of second-row leg room, beating the Acura by 1.4 inches.
The Lexus RX 350's base 3.5-liter V6 engine outmuscles the MDX with its 295 hp and 267 pound-feet of torque. This all heads through a slick eight-speed automatic transmission that delivers smooth shifts. The RX 450h cannot match the MDX's hybrid power, but its up to 31 miles per gallon city, 28 mpg highway, and 30 combined beat the MDX Hybrid by five mpg city, one highway, and three combined.
Don't Need a Third Row? Go Lexus
The Lexus RX is available with two- or three-row seating, making it a better option for those more concerned about cargo than passengers. Also, those looking for a sportier drive will find the RX a more enjoyable ride.
Verdict: Acura MDX
The Acura MDX is a great buy for virtually any family with its versatile seating, large cargo area, and potent powertrain options.
Take a closer look at the Acura MDX »