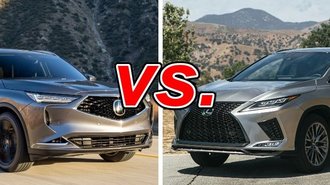 The luxury crossover space has been through many changes lately, but you would never know that looking at the 2021 Lexus RX. It's been relatively unchanged since its 2016 redesign. Equally old was last year's Acura MDX, but that all changes with the all-new 2022 MDX, which boasts new looks inside and out, new powertrain options, and a slew of new standard tech.
Find out below if the aging 2021 Lexus RX can keep pace with the all-new 2022 Acura MDX based on our latest luxury SUV comparison of key specs and features.
See a side-by-side comparison of the Acura MDX & the Lexus RX »
What the MDX gets right
The Acura MDX kicks things off the right way with an all-new look for 2022, bringing in a sportier and livelier look than it had before. The RX, on the other hand, is still relatively sporty but is getting long in the tooth.
Inside the MDX tones things down a little, but the cabin still matches the sleek and well-put-together exterior, something the RX's dramatic shift from angular body to vanilla cabin doesn't pull off well.
The MDX also comes with superior standard features, including a panoramic sunroof, a 12.3-inch non-touch display, and wireless Apple CarPlay and Android Auto. The RX's screen is significantly smaller at 8 inches. Plus, its Apple CarPlay and Android Auto still require a prone-to-failure USB connection.
The standard MDX can haul up to seven passengers, while RDX shoppers who need this extra capacity must bump to the pricier RX 350L. That said, the RX 350L's third row is more torture chamber than seating option with just 23.5 inches of legroom. The MDX isn't far better with its 29 inches of third-row legroom, but it at least permits blood flow to your lowermost extremities. The MDX also offers an extra 0.5 inches in second-row legroom at 28.5 inches.
Cargo room is all MDX with 18.1 cubes with all three rows upright, 48.4 cubes with the third-row folded, and 95 cubes with all three rows lowered. The RX 350 tops out at 32.6 cubes with all three rows folded, and the RX 350L pushes that to just 58.5 cubes.
Finally, the MDX's 290-hp base engine may not do much to separate it from the 295-hp RX, but its optional 355-hp twin-turbo V6 option delivers zippy performance the RX cant match.
What the RX gets right
The RX gets a leg up with its optional seating configurations for all families with its five-passenger base and seven-passenger L models. It also starts over $1,000 cheaper than the MDX.
Inside, the RX comes standard with an 8-inch touchscreen. While that screen is 4.3 inches smaller than the MDX's standard unit, the touchscreen functionality allows you to bypass Lexus' utterly terrible touchpad interface. Acura's 12.3-inch system is non-touch, forcing you to use its equally terrible – maybe even worse – touchpad.
The RX also adds a sense of sportiness with its F Sport variant, which adds bolstered seats, sporty 20-inch wheels, adaptive dampers, and some cosmetic upgrades inside and out.
In the fuel economy department, the RX's standard 20 miles per gallon city, 27 highway, and 23 combined beat the MDX by 1 mpg city, 2 mpg highway, and 2 mpg combined. Where this Lexus shines is the RX 450h hybrid, which offers up to 31 mpg city, 28 highway, and 30 combined.
Long-range commuters may prefer the Lexus
While the Lexus RX is getting tired and needs a full update, it still has endearing qualities, like its touchscreen and optional seating configurations. But it adds up for long-range commuters, as the RX 450h Hybrid is untouchable in fuel economy.
Verdict: Acura MDX
Though the MDX isn't without its flaws, namely the horrific infotainment interface, it secures a comfortable win against the aging RX. With its potent turbocharged V6, roomier cabin, and more symmetric looks inside and out, the 2022 Acura MDX simply has more to offer than the RX.
Take a closer look at the Acura MDX »