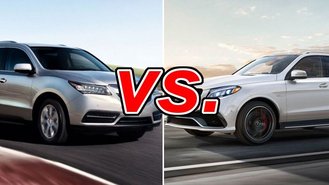 One of the roomiest midsize crossovers you can buy, Acura's MDX provides spacious accommodations for up to seven passengers. Loaded with comfort and convenience features, the MDX has earned impressive safety scores: a five-star rating from the federal government, plus Top Safety Pick + from the Insurance Institute for Highway Safety. For 2016, the MDX gets a nine-speed push-button automatic transmission.
Ever since the 1990s, the M-Class has been a valued staple of the Mercedes-Benz lineup. Now, as of 2016, the M-Class has departed—but not really. That luxury crossover continues with little change as the new GLE-Class model. Offered with a choice of gas, diesel, or plug-in hybrid power, the GLE carries offers an impressive array of safety technology in addition to its other merits.
See a side-by-side comparison of the MDX & GLE350 »
What the MDX Gets Right
Simply put, Acura's MDX ranks among the best premium three-row crossovers. Easy to drive, the MDX delivers an excellent ride and scores high in handling, though steering doesn't provide much feedback. The Sport driving mode quickens responses, whereas the Comfort setting yields lighter steering feel. With its 3.5-liter V6 developing 290 horsepower and 267 pound-feet of torque, the MDX possesses plenty of power for takeoffs and passing.
Quiet-running, the MDX comes across as refined, with one exception. The new nine-speed automatic isn't as seamless or smooth as the six-speed it replaced. Also, bright interior trim can produce glare. Second row seats slide fore/aft by 6 inches, helping balance passenger space with cargo. Gas mileage is estimated at 22 mpg in combined driving (21 mpg with all-wheel drive).
What the GLE350 Gets Right
In the GLE350 model, a 3.5-liter V6 engine generates 302 horsepower and comes with a seven-speed automatic transmission. Fuel economy falls short, estimated at only 17/22 mpg (city/highway) with all-wheel drive. Not only does the GLE350 exhibit commendable road manners, it can undertake occasional trail work—but not serious off-roading. The GLE350 is the only GLE-Class model to offer a rear-wheel-drive version; most are likely to have 4Matic AWD.
The GLE350 offers four drive modes: Individual, Slippery, Comfort, and Sport. In terms of ride quality, the difference between Sport and Comfort is substantial. Mercedes-Benz also offers an optional Airmatic and Active Damping suspension. Inside, well-contoured, supportive seats are softly cushioned.
Does Acura's three-row crossover hold up against its German luxury rival?
Although the new GLE-Class continues the favorable reputation earned by its M-Class near-clone, Acura's well-established record for overall excellence cannot easily be dismissed.

Our Verdict: Acura MDX
In too many vital aspects, Acura's sizable crossover can't quite be beaten—even by a highly capable German competitor.
Take a closer look at the Acura MDX »