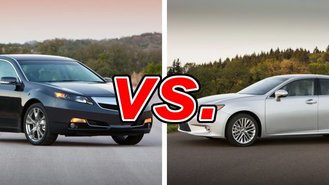 Whether they're called entry or midsize luxury, sedans like the Acura TL and Lexus ES 350 provide refined motoring and upscale accommodations at an accessible price. Both offer V6 power delivered to the front wheels, hushed operation, and enough interior room to carry five adults without complaints.
See a side-by-side comparison of the TL & ES 350 >>
These are long-running models with a history of delivering exactly what affluent buyers want in a daily driver. In this battle of equals, which impresses us more?
Sizing Up the TL
Although the current TL has been with us for a while, continuous updates have kept it feeling fresh. Clean exterior styling gives a prestigious look that's just about right -- neither boring nor ostentatious. The interior focuses on function over style, which is no insult in this case. Buyers get abundant high-tech conveniences, meticulous craftsmanship and plenty of passenger room.
The Acura's 3.5-liter V6 produces 280 horsepower for luxuriously quick performance. Things really get interesting with the all-wheel drive version, which carries a 3.7-liter with 305 horsepower. Equipped with the larger engine and available six-speed manual transmission, the TL accelerates from zero to 60 mph in 5.7 seconds, terrific for this class.
Lexus Luxury
The ES 350 continues as the standard bearer of traditional luxury in this segment, especially after undergoing a major refresh in 2013. Long recognized for its silky operation and sumptuous accommodations, the ES isolates its passengers from just about every environmental annoyance, with the exception of fellow occupants.
The Lexus endures because it manages to coddle without seeming like an elderly drivers' cars. It's fresh and energetic, with a 268-horsepower V6 and roadworthy handling. That said, this ES is not to be confused with a sport sedan, which is why Lexus offers the rear-drive IS in the same price range.
Why Is the ES More Popular than the TL?
Like its parent Toyota, Lexus is adept at hitting all the right buttons; buyers shopping for a sedan in this price range care more about comfort than performance.
Our Verdict: Acura TL
We won't quibble with the Lexus' interminable appeal, but the TL is closer to our ideal of a modern luxury car.
Take a closer look at the Acura TL >>