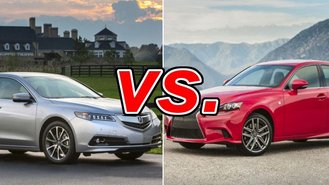 A new midsize four-door sedan joined the Acura lineup during the 2015 model year. In effect, the 2015 TLX replaced two former sedans from Honda's luxury division: the TSX and TL. The TLX comes in a choice of two engine/transmission combinations, but no manual gearbox is offered and the wagon version of the TSX is gone.
Even though the IS model designation has been a Lexus staple since 2002, the third generation of this premium sedan seems like a distant relative of the original. Redesigned for the 2014 model year, the 2016 IS offers a choice of three engines, starting with a new turbocharged 2-liter four-cylinder in the IS 200t. Available only with rear-wheel drive, the IS 200t uses an eight-speed automatic transmission. An F Sport package is available.
See a side-by-side comparison of the TLX & IS 200t »
What the Acura TLX Gets Right
Less luxurious than some rivals, in appearance and feel, the TLX provides abundant interior space, along with a boatload of up-to-date technology possibilities. In the front-drive base model, a 2.4-liter four-cylinder engine with direct injection sends 206 horsepower to an eight-speed dual-clutch automatic transmission. That combination results in impressively enjoyable performance, as well as beautifully settled, highly predictable handling.
Because the four-cylinder's transmission incorporates a torque converter, the jerky shifts delivered by most dual-clutch units are absent. Thus, gear changes are quick and crisp, but also remarkably smooth. Oddly, the V6 version feels rather sluggish and heavy, and its pushbutton-activated nine-speed automatic transmission tends to hesitate. Thus, the four-cylinder is our choice for a rewarding driving experience.
What the Lexus IS 200t Gets Right
When equipped with the four-cylinder turbo, Lexus's IS performs swiftly enough to suit most anyone. Unfortunately, just when a burst of power is needed, the IS 200t often responds only after a brief—but troublesome—delay from the transmission and turbocharger. Versions of the IS with V6 power don't suffer from this phenomenon, but they trail the IS 200t in fuel economy. Even the four-cylinder isn't as thrifty as some, EPA-estimated at 22/33 mpg (city/highway).
Though gentle-riding much of the time, the suspension of the IS 200t can react with considerably more harshness as the pavement roughens. As for handing, the IS 200t ranks about average. A low roofline makes entry/exit more of a challenge than it should be. Front seats are snugger than expected, while squirming into the back seat can be a body-contorting adventure.
Can a recent Acura addition top an old-time nameplate from Lexus?
Simply put, the list of compelling attractions that come with a TLX is longer, and more attractive, than a similar list for this particular Lexus model.
Our Verdict: Acura TLX
There's a qualification, though: The TLX wins only with its gem of a four-cylinder engine. Acura's midlevel model falters with a V6 under the hood.
Take a closer look at the Acura TLX »