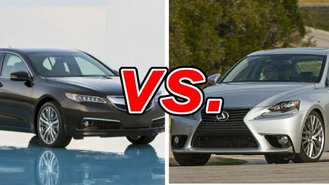 The BMW 3 Series and the Mercedes-Benz C-Class have long dominated the compact luxury segment. However, in recent years, Japanese automakers Lexus and Acura have steadily improved and buyers are starting to consider them as alternatives to the two German legends.
Though they have similar goals, these two Japanese sedans attack from different angles. The Lexus IS 250 heads into battle with a more traditional rear-wheel drive sports sedan that emphasizes precision handling, whereas the TLX uses a Honda-sourced front-wheel drive platform to deliver a smooth, carefree ride with decent handling.
Can the front-driven TLX defeat the more traditional rear-driven Lexus IS 250 in a head-to-head comparison?
See a side-by-side comparison of the TLX & IS 250 »
What the IS 250 Gets Right
The first thing that may attract buyers to the IS 250 is its sporty and aggressive looks, thanks to a recent redesign. Additionally, its single-screen (8-inch) infotainment system is less distracting than the TLX's, but it is equally finicky.
The IS 250 takes home a gold medal for handling, as its rear-wheel drive setup is ideal for athletic handling and a smooth ride. Additionally, its steering system is one of the most precise available in its class, and it delivers great feedback.
See more luxury sedan comparisons here »
What the Acura TLX Gets Right
The TLX comes out of the gate with a significant price advantage, while offering almost identical features and a roomier rear seat.
Under the hood, the TLX also has an advantage, as its standard 2.4-liter four-cylinder produces 206 horsepower and 182 pound-feet of torque. On top of that, its optional 3.5-liter V6 produces 290 horsepower and 267 pound-feet of torque. To sweeten the deal, the TLX also gets better standard fuel economy at 24 mpg city, 35 mpg highway, and 28 mpg combined. Even the 3.5-liter V6 trumps the IS 250's fuel economy at 21 mpg city, 34 mpg highway, and 25 mpg combined.
Why Buy the IS 250?
The IS 250 is not for everybody, but it is great for buyers who are looking for a more traditional luxury sports sedan. Its biggest downfall is its underwhelming V6 and overwhelming base price.
Verdict: Acura TLX
Though its handling isn't as sharp, the TLX takes home a victory against the IS 250. Dollar for dollar, the TLX simply has a lot more to offer, including engines that are more powerful and more economical, and a long list of standard features, all for a significantly lower price than the IS.
Take a closer look at the Acura TLX »