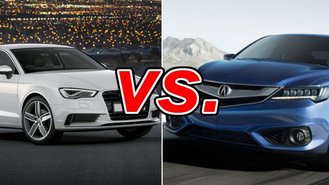 Luxury automakers use entry-level models to attract young customers who will ideally continue to trade up as they move through successful careers. So, Audi hopes the A3 will lead to future sales of the A6 and A8. Acura, meanwhile, thinks of the ILX as a teaser for models like the TLX and RLX.
See a side-by-side comparison of the A3 & ILX »
Which is more likely to create a brand-loyal customer?
The Acura ILX
For 2016, Acura updates the ILX to better separate it from its less luxurious donor car, the Honda Civic. This restyle introduces a new front fascia with Jewel Eye LED headlights, a new rear fascia with restyled taillights, an updated grille and new 17-inch wheels. For buyers looking for added sportiness, there is the new A-SPEC package that adds things like a spoiler, fog lights, and 18-inch wheels.
For this restyle, Acura has also done away with its wheezy base engine, leaving only the peppy 2.4-liter i-VTEC engine with 201 horsepower as its base engine. Also new is a dual-clutch transmission that improves responsiveness and fuel economy.
The Audi A3
Audi has become a manufacturer known for high quality, and that's true even with its entry-level A3. Newly available as a sedan, the subcompact hit US showrooms in early 2014. You have a choice of two gasoline engines, though the only one that bests the ILX is the optional 2-liter turbo with 220 horsepower. What really sets the A3 apart is the ability to equip it with all-wheel drive.
Pound for pound, the Audi and Acura are very similar in terms of features, but the A3 comes standard with a few extra bits like leather seating and a 10-speaker audio system.
Which Inspires More Brand Loyalty?

The ILX and the A3 are both great vehicles, and the redesigned ILX really pushes the A3. However, the A3 will do a better of job of convincing its owners to trade up.
Our Verdict: Audi A3
The Audi A3 offers the perfect mix of quality and luxury that will bring in young buyers and retain their loyalty for years to come.
Take a closer look at the Audi A3 »