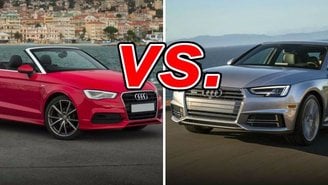 Car buyers often face a conundrum when they're shopping in the luxury market with a target price that will buy a fully-loaded entry-level model, or one that is less optioned from the next segment up. Making an educated decision involves drilling deep into each car to match pros and cons against wants and needs.
The Audi A3 and Audi A4 are a case in point. Should you choose the A3—smaller, quicker, and cheaper—or the A4—bigger, smoother, and more powerful?
See a side-by-side comparison of the A3 & A4 »
What the A4 Gets Right
The A4, which recently underwent a full overhaul, now features a look that is just as timeless as its predecessor but with a modern twist. Also part of the A4 package are plenty of standard features like tri-zone climate control, shift paddles, an auto-dimming rearview mirror, ambient interior lighting, aluminum doorsill plates, a 7-inch MMI display, and more.
The A4 also features a new, more-powerful version of Audi's 2-liter four-cylinder engine. This new engine puts out 252 horsepower and 273 pound-feet of torque. This potent engine pairs with a seven-speed S tronic transmission that delivers power to the front or—optionally—to all four wheels. Surprisingly, the A4 is also slightly more fuel efficient than the smaller A3 at 25 mpg city, 33 mpg highway, and 28 mpg combined.
Rounding out the benefits of the A4 is its roomier cabin that offers a good bit more headroom, more shoulder room, slightly more rear-seat legroom, and a lot more cargo room.
What the A3 Gets Right
The A3 kicks off with a lower base price than the A4 and still features many of the same standard goodies as the A4. These include the 10-speaker sound system, 17-inch wheels, heated mirrors, parking sensors, and more.
In terms of performance, the A3 does give up a good bit of power relative to the A4, but with its optional 2-liter engine, the A3 is actually slightly quicker than the base A4. This is likely due to the extra few hundred pounds of heft the A4 carries around.
Finally, with its smaller footprint, the A3 is far easier to navigate through tight traffic and in parking lots.
The tables have turned on the A3?
The A3 was once considered the better value for the money, but the new-look A4 has finally bested its smaller sibling. With that said, the A3 still has a place in the world, as its smaller body is best suited for city traffic and its lower price will fit some budgets a little better than the A4.
Verdict: Audi A4
With its new, sportier look and more-potent powertrain, the A4 finally bests the A3—as it most certainly should. Sure, it is priced a bit higher than the 2-liter-equipped A3, but its extra features, larger cabin, and added comfort makes this money well spent.
Take a closer look at the Audi A3 »