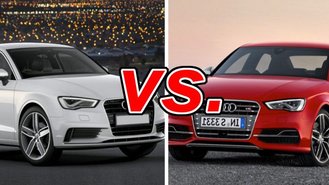 It's not uncommon for automakers to release performance versions of their cars, and this is particularly true with luxury cars. Mercedes-Benz has its AMG lineup, BMW has its M Series cars, and Audi has its S and RS models. In some cases, the differences between the standard model and the performance model are so fine that buyers may find themselves debating which one they should choose.
One such debate may arise when a buyer looks at the Audi A3 next to its performance sibling, the S3. Both models were completely redesigned for 2015, but which one is the best buy?
See a side-by-side comparison of the 328 & C300 »
What the Audi S3 Gets Right
The Audi S3 comes fully loaded with all of the goodies expected of a performance luxury sedan. These include 18-inch wheels with summer tires, keyless ignition, Audi Drive Select, heated front seats, leather and faux suede upholstery, and Bluetooth connectivity.
Under the hood is where the S3 really makes its mark. Its 2-liter four-cylinder engine produces 292 horsepower and 280 pound-feet of torque. Additionally, the S3 comes standard with all-wheel drive. This amounts to a 0-to-60 mph sprint of 4.7 seconds and a top speed of 155 mph.
See more luxury sedan comparisons here »
What the Audi A3 Gets Right
While the A3 may not have all of the standard features of the S3, it does share some in common. These include xenon headlights, a 10-speaker audio system, Bluetooth connectivity, and leather upholstery.
The A3 falls short in terms of power, but it is the more economical of the two. Its base 1.8-liter TFSI engine gets 23 mpg city and 33 mpg highway, while the 2-liter gets 24 mpg city and 33 mpg highway. Finally, the 2-liter TDI gets a whopping 31 mpg city and 43 mpg highway.
Finally, the A3's base price is over $10,000 less than the S3's. Additionally, buyers can opt for the fully loaded A3 Prestige 2.0 TFSI and still pay only a slight premium over a stripped S3.
Why Buy an S3?
The S3 is a niche vehicle, and that is why it loses out here. Yes, it is insanely fast, handles superbly, and looks fantastic, but it is not the best buy. The S3 works great for a younger buyer who's looking for outrageous performance from a sedan without any concern for cost.
Verdict: Audi A3
From top to bottom, the A3 is the better value. Sure, it isn't as fast as the S3, but you get a lot more bang for your buck. Additionally, the A3 with the 2.0-liter TFSI engine is pretty quick in its own right, with a 5.8-second sprint to 60 mph.
Take a closer look at the Audi S3 »