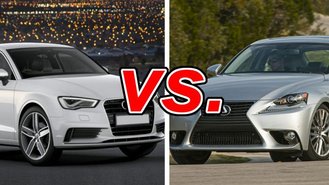 With the introduction of less expensive entry-level luxury cars in recent years, buyers have many more choices. This can lead to some cross shopping between models that aren't necessarily traditional competitors. One such debate may be between the Audi A3 and the Lexus IS 250.
Does the smaller A3 have what it takes to overcome the larger IS 250?
See a side-by-side comparison of the A3 & IS 250 »
What the Lexus IS 250 Gets Right
The first thing that stands out in the IS 250 is that its looks are very modern and sporty, making it ideal for the younger crowd. Tall drivers and front-seat passengers will enjoy its 44.8 inches of front legroom. Additionally, its optional F Sport package adds many sporty features that some buyers desire, plus an updated suspension system.
Under its hood, the IS 250 is the more powerful of the two in its base setup, thanks to a 2.5-liter V6 that produces 204 horsepower and 185 pound-feet of torque, The rear-wheel drive setup of the IS is also ideal, as it provides a more dynamic feel to go along with its crisp steering.
See more luxury sedan comparisons here »
What the Audi A3 Gets Right
Next to the IS 250, the A3 has more return on your initial investment, thanks to its slew of standard features. These include xenon headlights, a sunroof, leather upholstery, and a 10-speaker audio system.
Though the base engine in the A3 is underpowered next to the IS 250's 2.5-liter engine, it is 0.3 seconds quicker to 60 mph than the Lexus. The optional 2-liter TFSI engine pushes things even further, thanks to its 220 horsepower and 258 pound-feet of torque. Additionally, both gasoline engines easily defeat the IS 250 in fuel economy, while the optional 2-liter TDI engine takes the mpg championship to a whole new level.
What's more, the A3 actually has more rear seat legroom than the IS 250, though it does lose out in trunk space and shoulder room.
Finally, the A3's base price undercuts that of the IS 250 by a significant margin.
Why Buy an IS 250?
David defeats Goliath this time around, but the IS 250 still has plenty to offer. Its sporty looks and dynamic handling make it ideal for buyers who are looking for a more traditional sport sedan. The A3, with its front-wheel drive setup, just can't compete in this area.
Verdict: Audi A3
The A3 is a great buy in this competition. Not only is it less expensive, but it offers more rear legroom, better acceleration, better fuel economy, and a lower price. The A3 doesn't walk away from this battle without a few wounds, but it does walk away victorious.
Take a closer look at the Audi A3 »