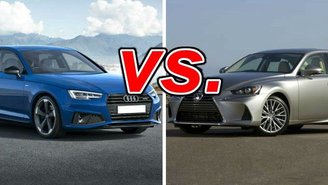 The Audi A4 is a mainstay of the compact luxury class, delivering enough performance and sophistication to satisfy a large swath of buyers. The A4's sober good looks and competitive price sweeten its appeal. The Lexus IS displays a similar level of refinement, but takes a sportier approach to affordable luxury. Aggressive handling and bold styling keep this Lexus on buyers' radar.
Is the all-purpose A4 everything it's cracked up to be, or is the expressive IS something truly special in this class?
See a side-by-side comparison of the A4 & IS »
What the A4 Gets Right
The Audi A4 dwells on the larger end of its class and takes styling cues from larger sedans in the brand's lineup. The result is a well-proportioned compact with room for five and a substantial look and feel.
The hushed interior is loaded high-quality materials, expertly assembled. Every A4 gets leather seats, wood or aluminum interior trim, a sunroof, and full smartphone integration. All except the base model feature a configurable 12.3-inch digital instrument cluster with full color.
The A4 starts out with front-wheel drive and a turbocharged 2.0-liter four-cylinder engine that puts out 188 horsepower and 236 pound-feet of torque. This setup is the choice for efficiency, delivering an EPA-estimated 27 miles per gallon city, 34 mpg highway, and 30 combined.
Most buyers opt for the high-output version of the 2.0-liter, which generates 252 hp and 273 lb-ft of torque for robust performance. Audi's quattro all-wheel-drive system comes standard with this engine. Efficiency is still respectable at 23/34/27 mpg (city/highway/combined).
What the IS Gets Right
The Lexus IS offers the sensual appeal and fine finishes we expect from the rand, but with a rambunctious twist. With its rear-drive architecture, firm suspension, and relatively short wheelbase, the IS handles with precision of sport coupe. There's plenty of fun to be had by drivers who search out twisty roads.
The base 2.0-liter turbo engine delivers 241 hp and 258 lb-ft to the rear wheels. It's EPA-rated at 21/30/24 mpg. The available 3.5-liter V6 with 260 hp comes with all-wheel drive. In addition to all-weather security, the AWD system provides even sharper handling on dry pavement.
The enthusiast's choice is an upgraded version of the 3.5-liter V6 with 311 hp and 277 lb-ft, available with rear- or all-wheel drive. The engine brings the IS's acceleration inline with its handling potential with just a one to two mpg loss in efficiency.
What Really Matters
The Audi A4 falls short of the Lexus IS in handling and available power – but there are other factors to consider. The A4 gives buyers more interior room, better efficiency, and a smoother cruising experience. The IS wins on excitement, for whatever that's worth in a luxury sedan.
Our Verdict: Audi A4
The talented Audi A4 covers all the bases that most buyers care about.
Take a closer look at the Audi A4 »