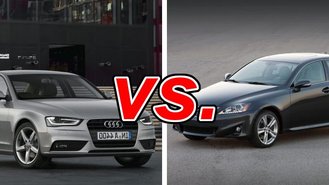 The Audi A4 is almost single-handedly responsible for saving Audi's presence in the United States, and has been a standard bearer in its class since the mid-1990s. Lexus, by contrast, has never suffered from adverse public relations. But the IS 250 must still push hard to earn a spot in the premium sport sedan market.
So is the redesigned A4 a better choice than a newer upstart like the IS 250?
See a side-by-side comparison of the A4 & IS 250 »
What the Audi A4 Gets Right
The Audi A4 rolls in with a new look as of late, which modernizes the iconic timeless design that the brand has long boasted. With this redesign also comes an enhanced cabin that is far roomier than the IS 250's.
The new A4 now features a pair of 2-liter engines. The base 2-liter engine's 190 horsepower falls a tad short of the IS 250's V6, but its up to 37 mpg highway and 7.1-second sprint to 60 mph are both superior. Buyers looking for more power can go with the optional 2-liter engine that cranks out 252 horsepower and 273 pound-feet of torque.
Available transmissions include a six-speed manual or a seven-speed dual-clutch unit. Both transmissions are available with Quattro all-wheel drive.
What the IS 250 Gets Right
The exterior of the IS 250 is elegant and engaging. The safety features of the IS 250 are good -- especially the automatic collision notification.
Where the IS 250 really shines, though, is inside. The cabin is luxurious and sporty with wood and leather accents. The instruments are easy to use and unobtrusive, and the optional navigation system with touchscreen is a must-buy.
Does the A4 Hold Its Own Against the Newer IS 250
The Audi A4 is a commendable sport-tuned luxury sedan. The peppy turbocharged four-cylinder engines compare well to the somewhat listless V6 in the Lexus. The interior of the Lexus is superior in design and materials. But the A4 handles corners with an ease the IS 250 can't quite match.
Our Verdict: Audi A4
Despite the IS 250's obvious virtues, the A4 more purely interprets the purpose of a luxury sport sedan.
Take a closer look at the Audi A4 >>