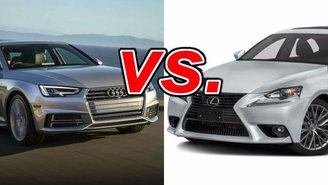 Ever since Audi's compact sedan appeared in 1996, the elegantly upscale A4 has closely rivaled the BMW 3 Series. Both are refined German-brand vehicles, but BMW has held the lead—though not necessarily by much. The A4 hasn't changed all that much over the years, but a full redesign for the 2017 model year ushers in a new, albeit familiar, look, more power, a standard seven-speed transmission, and new technology.
Lexus launched its IS sedan in 2002, but the third generation is a different sort of premium sedan. Redesigned for 2014, the IS offers a choice of engines: two V6s or a new turbo 2-liter four-cylinder. The IS 350 holds a 306-horsepower 3.5-liter V6, but we are looking solely at the all-wheel drive IS 300 with its 255-horsepower version 3.5-liter V6 and eight-speed automatic transmission.
With two extra cylinders and standard all-wheel-drive, can the IS 300 beat out the legendary—and newly redesigned—A4 in a head-to-head comparison? Continue reading to find out.
See a side-by-side comparison of the A4 & IS 300 »
What the Audi A4 Gets Right
Spirited performance is the rule from Audi's 252-horsepower 2-liter four-cylinder engine. The A4 comes standard with front-wheel drive but it is also available with Audi's famed Quattro all-wheel drive. In both setups, the A4 comes standard with a seven-speed S tronic auto transmission. This powertrain is not only impressive in terms of acceleration, but its fuel economy is pretty good, too, as the base model is rated 25/33 mpg and the all-wheel-drive version is rated 24/31 mpg.
Although the A4 is known for appealing handling traits, numb steering holds back its sporty behavior by a notch. However, you can expect sufficient sharpness, and the ride is comfortably controlled. The elimination of the CVT in 2017 is bound to make some Audi fans cheer.
What the Lexus IS 300 Gets Right
The handling qualities of any IS rank near average. Ride comfort can be pleasantly gentle, or turn significantly harsher as the surface grows lumpier. Automatic-transmission shifts are smooth, though noticeable. The IS 300's seats receive high marks for comfort and support and its standard equipment is plentiful.
The IS 300 comes standard with all-wheel drive, making it perfect for buyers in areas that tend to get a little snow and ice.
Can a German turbo four outrank Lexus V6 in a compact sedan?
Audi's A4 has a reputation for nimble handling and solid performance, as well as timeless design, and comes with either front-wheel or all-wheel drive. Lexus has turned out some excellent driving machines, but the IS 300 simply can't hold up to the A4's nimbleness and quick acceleration.
Our Verdict: Audi A4
While the IS 300 comes standard with all-wheel drive and delivers plenty of luxury, the A4 comes in at a slightly lower starting price with its optional all-wheel drive and performs more like a sports sedan than the IS.
Take a closer look at the Audi A4 »