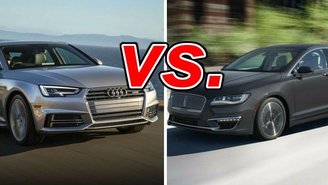 For many years, Lincoln has been the black sheep of the luxury car segment. This has mostly been due to its lack of creativity as it badge-engineered existing Ford vehicles. That's changing, though. And while the MKZ is still related to the Ford Fusion, a recent refresh that includes a massively powerful new engine may be what this midsize sedan needs to succeed on its own merits.
On the other hand, the A4 has long been a success in its segment. Now, with a new look and a new powertrain, the A4 hopes to remain superior to its American competitor.
So, does the MKZ finally have what it needs to take down the A4?
See a side-by-side comparison of the A4 & MKZ »
What the Audi A4 Gets Right
The Audi A4 recently received a complete redesign that, while more modern, retains Audi's focus on timelessness instead of flashy looks. With this redesign also comes a slew of high-end features, like authentic leather upholstery, a 10-speaker audio system, and a suite of safety features that earned it a Top Safety Pick+ designation from the IIHS.
Adding to the new look is a new powertrain that pushes the 2-liter four-cylinder engine to 252 horsepower. This engine pairs with a seven-speed S tronic transmission that sends the power to the front wheels or all four wheels via Audi's Quattro system.
Not only is this powertrain more potent than the base MKZ, but it also delivers superior fuel economy of 25 mpg city and 33 mpg highway (front-wheel drive).
What the Lincoln MKZ Gets Right
The MKZ's look is far more radical than that of the A4, catering to a specific group of buyers. In addition to an updated look, the MKZ also has a few more-premium features at its disposal, including an 11-speaker audio system, 18-inch wheels, and an adaptive suspension system.
Under its hood, the MKZ offers an optional 3-liter turbocharged V6 powerplant that easily bests the A4's four-pot. In its standard setup, this engine cranks out 350 horsepower, but with all-wheel-drive, this power jumps to 400 ponies. The MKZ also offers a thrifty hybrid model that, while not inspiring with its 188 horsepower and CVT box, does offer a superior 41 mpg city and 38 mpg highway.
As for roominess, the MKZ does offer a few extra inches of legroom and more shoulder room in the rear seats. It does, however, fall short of the A4's cargo-hauling capabilities.
Is the MKZ Just Another Rebadge?
In short, no. While it's true that it's based on the Ford Fusion, there are a number of exterior and interior features that set it apart from the standard Ford. What's more, its new 400-horsepower 3-liter V6 sets it even further from its platform mate. But it just isn't enough to overcome the total package the A4 offers.
Our Verdict: Audi A4
We chose the Audi A4 because it is still as brilliantly put together as ever. Like the Lincoln, it's based on a less expensive car—the Volkswagen Jetta—but you couldn't tell, even if you drove one right after the other.
Take a closer look at the Audi A4 >>