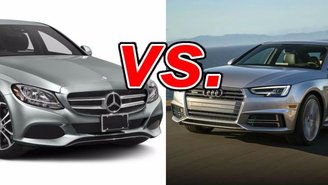 The compact luxury sedan market has been a hotly contested segment for many years, with models that attract buyers on a budget who want the prestige of a luxury car.
Two of the heavy-hitters in this segment are the Audi A4 and the Mercedes-Benz C300. Audi has been on a tear as of late, and—with the recent redesign of its A4—things are only looking up. Can the surging Audi A4 beat out the C300?
See a side-by-side comparison of the A4 & C300 »
What the Audi A4 Gets Right
The Audi A4's design is all-new, albeit quite familiar. Like its predecessor, this design appears to be timeless, which means it will age just as gracefully as the previous-gen model.
Also new is the A4's 2-liter TFSI engine that cranks out a mighty 252 horsepower and 273 pound-feet of torque. This engine mates to a fast-shifting seven-speed S tronic transmission that delivers power to the front wheels as standard or all four wheels. This powertrain gives the A4 great straight-line speed with its 0-to-60 sprint coming in at just 5.7 seconds with all-wheel drive, but its steering is a little numb, resulting in a less-than, sporty feel.
The A4's revamped interior is filled with plenty of features and tech for most buyers, and its rear seat is spacious enough for adults.
What the Mercedes-Benz C300 Gets Right
The Mercedes-Benz C300 received a complete overhaul for 2015, giving it a modern and even more premium appearance than before.
Though it cannot match all of the A4's standard features, C300 buyers get 17-inch alloy wheels, 10-way power front seats, and a tilt and telescoping steering wheel. Additionally, the C300 is available in two versions—Sport and Luxury—giving it two distinct personalities.
Under its hood, the C300 is a tad deficient at 241 horsepower, but its rear-wheel-drive setup gives it more of a sports-sedan feel.
Where does the C300 go from here?
Though the A4 slightly beats out the C300 in nearly every measurable, the Mercedes does have brand cachet on its side. Rarely do people ever say, "Ohhh, you drive an Audi," but Mercedes always draws some envy.
Verdict: Audi A4
The revamped Audi A4 can finally hold its head high as its new powertrain, sportier appearance, enhanced performance, and more-premium standard features squeeze the C300 from its pedestal.
Take a closer look at the Audi A4 »