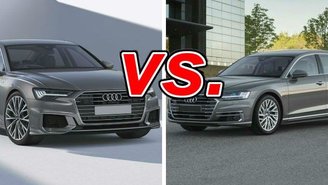 Although its crossovers and SUVs have become successful models in their own right, Audi made its name on sophisticated, comfortable sedans. The Audi A8 and Audi A6 continue to carry this torch.
The two cruisers are both showcases for some of Audi's best technology and engines, and both received a redesign in 2018.
See a side-by-side comparison of the A6 & A8 »
What the A6 Gets Right
The biggest recommendation for the Audi A6 is its price. Starting at $59,895 including destination, the A6 is $24,900 cheaper than the Audi A8.
You wouldn't know it from what's under the hood. The A6 can have exactly the same engine as the A8, a 3.0-liter V6 pumping out 335 horsepower. Even with that engine equipped, the A6 is nearly $15,000 cheaper than the A8.
Despite having the same engine, the A6 gets better mileage thanks to its lighter body. Equipped with the V6, the A6 manages an EPA-estimated 25 miles per gallon combined. It gets an even better 27 mpg with the base 2.0-liter engine.
Surprisingly enough, the A6 has more cargo space than its larger sibling. It can hold 13.7 cubic feet of baggage in the trunk compared to just 12.5 in the A8.
What the A8 Gets Right
Starting from its architecture, the Audi A8 has a larger cabin than the Audi A6. The new generation of A8 is even larger than the last, which was generous to begin with. With its lengthy wheelbase, the A8 has nearly 7 inches more rear leg room than the A6.
The fittings match the palatial dimensions. With 18-way heated seats, multiple jumbo touchscreens, exotic trims, and every available luxury, the A8 makes its passengers feel like royalty.
The tech is cutting-edge, too – the A8 can be equipped with features like a predictive suspension that scans the road for bumps and ruts and adjusts accordingly. That's on top of Audi's sophisticated active safety and autonomous technology.
How Much Luxury Is Enough?
The Audi A8 is Audi's flagship sedan, and it looks and feels the part. But the Audi A6 gets the job done for much less – with the same engine and better efficiency.
But cars this expensive should feel special, and the Audi A8 does that as well as just about anything on the road. It may lose out on cargo space and efficiency, but buyers looking for those virtues were probably already looking elsewhere.
Our Verdict: Audi A8
The Audi A6 and Audi A8 both make their names on luxury, and for many buyers the A6 will be plenty. But the A8 earns its positions as Audi's flagship with its spacious cabin, plush trimmings, and advanced technology. If you're buying for luxury, the A8 is still the king.
Take a closer look at the Audi A6 »