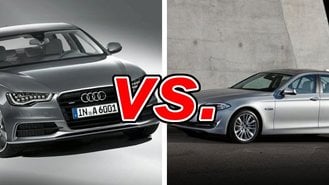 Audi has steadily built up a reputation for achingly stylish luxury cars that really do go head-to-head with long-established premium brands. With the A6, Audi has a fiercely competitive entrant in the midsize luxury segment that goes after class's longtime champion, the BMW 5-series. How does the latest A6 stack up to the 528i?
See a side-by-side comparison of the A6 & 528i >>
What the Audi A6 Gets Right
The Audi A6 carries forward some of the most impressive things about recent Audis, starting with the reasonably good level of standard equipment and tremendous levels of detail in the exterior styling and interior finishes -- even on the base car. Quattro all-wheel drive is still one of the hallmarks of the A6, and it's available with either the efficient 2-liter turbo four-cylinder or the shockingly powerful 3-liter supercharged V6, both of which are incredibly refined.
What the BMW 528i Gets Right
The BMW 528i is still an excellent driver's car and it's remarkably efficient with the 2-liter turbocharged four-cylinder. However, there's no getting away from the fact it's gone a little soft. The styling isn't as pin-sharp as it used to be, and the details aren't as special as the Audi's. Nor is it the walkaway winner in terms of driving dynamics anymore, thanks to its flaccid electric power steering and engine stop-start system. Then there's the matter of price. A BMW badge still costs buyers thousands more than an Audi badge, but the increase in prestige is negligible these days.
So is the A6 the Better Car?
The A6 leads the segment because of its completeness. While it doesn't best the BMW in efficiency, it has more responsive engines. The interior is a better place to be, and it's roomier. The exterior still sets the pace in the segment -- save for the audacious Jaguar XF. Essentially, the A6 does everything as well as all the top dogs, and delivers it all in a relatively affordable package.
Our Verdict: Audi A6
The 528i is still a sound buy in the midsize luxury sedan segment, but victory is in the details these days. And it's in the details where the A6 leads.
Take a closer look at the Audi A6 >>