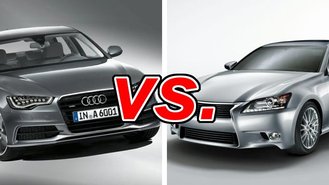 The Audi A6 always had pleasant styling, but a 2011 redesign with the German automaker's new design language gave it a handsomely aggressive presence. The muscular lines of an all-new Lexus GS 350, meanwhile, gave buyers a similarly good reason to take a second look.
See a side-by-side comparison of the A6 & GS 350 >>
So, does the Audi still have what it takes to stand out against its Japanese rival? Or will it fall short against the Lexus and its ambitious take on luxury?
What The Audi A6 Gets Right
The Audi's blend of sportiness and elegance should please buyers who crave a balanced appearance in their luxury car. Performance comes from a 2-liter turbocharged four-cylinder or an optional 3-liter supercharged V6 that's good for 310 horsepower.
The interior of the A6 also does an excellent job of blending comfort with a sporty feel. Supportive seats keep occupants in place during spirited driving, while the car's convenience features deliver world-class luxury.
Why Choose the Lexus GS 350 Over the Audi A6?
The German-inspired lines of the GS 350 are a vast improvement on previous efforts. The Lexus offers a slightly larger 3.5-liter V6. Though its 306 horsepower doesn't outgun the Audi's optional V6, the Lexus compensates with slightly higher fuel economy in city driving -- as well as the choice of a hybrid version.
The GS 350's interior features plenty of standard equipment and luxurious options, but prices can quickly increase when equipped with certain packages.
Has The GS 350 Surpassed Its German Rivals?
Despite a solid effort from Lexus, no. The GS 350's styling is certainly more pleasing to the eye than last year's model, and its interior has also been greatly improved. However, from an aesthetic and dynamic perspectives, the Audi is still the more compelling package.
Our Verdict: Audi A6
The GS 350 is an excellent choice, but the Audi A6 is the better choice.
Take a closer look at the Audi A6 >>