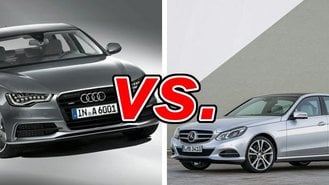 The Mercedes-Benz E-Class has been a reliable bestseller for the German automaker thanks to its sleek lines, luxurious interior and solid performance numbers. A refresh for 2014 gave the E350 a renewed sense of character while also adding new technology and features to make the car a standout in its segment.
The Audi A6, meanwhile, was redesigned for 2011 with aggressively elegant lines and high feature content that give buyers a good reason to take a second look.
Does the Mercedes-Benz E350 have what it takes to triumph against its upstart rival? Or will it fall short to the A6 and its unique take on luxury and performance?
See a side-by-side comparison of the A6 & E350 >>
What The Mercedes-Benz E350 Gets Right
The Mercedes Benz E350 was extensively redesigned for 2014 and buyers will appreciate its mix of elegance and sportiness. Performance comes from a 3.5-liter V6 that's good for 302 horsepower.
The interior of the E350 was also reworked. While it retains the basic layout found in the previous E-Class, a buyer will find higher-grade materials, a healthy list of standard equipment, and slightly revised ergonomics.
Why Choose The Audi A6 Over The Mercedes-Benz E350?
The A6 has more conservative styling than the E350 -- its sharp lines and elegant profile should please buyers looking for a more minimalist image. Performance comes from a 2-liter turbocharged four-cylinder or an optional 3-liter V6 that makes 310 horsepower, slightly more than the Mercedes-Benz.
The interior of the Audi A6 features an equally-extensive list of standard equipment but lacks the charm and excellent design of the E350's cabin. In addition, prices can quickly increase when ordered with certain packages and optional equipment.
Has Mercedes-Benz Successfully Rebuffed its Rival?
In many areas, yes. The Mercedes-Benz E350 has an interior that's more purposeful and visually appealing, and a nameplate with more prestige. Ultimately, however, buyer preference will determine which vehicle is indeed superior.
Our Verdict: Mercedes Benz E350
While the Audi A6 is still a top contender in the midsize luxury sedan segment, the E350 edges ahead to victory in this comparison.
Take a closer look at the Audi A6 >>