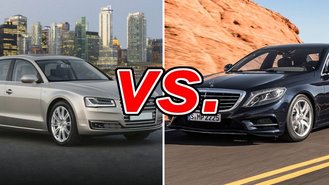 Audi and Mercedes-Benz have been going to toe to toe for years, swept up in the ceaseless battle to be king of the luxury sedan.
Audi's A8 design appeals to the young -- and young at heart -- while also maintaining high standards of comfort and performance. Mercedes-Benz is the grandfather of luxury cars, turning out impressive specimens like the S550 long before Audi entered the picture as a serious contender.
See a side-by-side comparison of the A8 & S550 »
So which one has what it takes to be the top model?

Where the Audi A8 Shines
The A8's design is distinctive but not ostentatious, with a powerful grille, signature headlights and aerodynamic lines. Engines range from the base supercharged 333-horsepower 3-liter V6 to the 450-horsepower 4-liter turbocharged V8. As an added bonus, the A8 has dropped its regular wheelbase, leaving only the long-wheelbase model and its enhanced rear-seat legroom.
The A8's abundance of upgrade packages and à la carte items make it very customizable. Cabin materials are crafted from high-quality materials, and Audi's optional Multi Media Interface is arguably one of the most advanced on the market. Handling is excellent with Audi's Quattro all-wheel drive, and safety features are top notch.

Where the Mercedes-Benz S550 Shines
It is impossible to discuss decadence without mentioning Mercedes-Benz. The S550 has a sophisticated build and a potent twin-turbocharged 4.7-liter V8 engine. Packing 449 horsepower under the hood, it's easy to see why this ride is both powerful and silky smooth.
The interior of the S550 is impossibly soft and irresistibly furnished. Plush leather, brushed chrome, and 16-way heated and massaging front seats are just the tip of the iceberg. The latest tech options are accounted for, including an impressive navigation system with voice control.
Mercedes-Benz is a status symbol as much as it is a brand, and the S550 is the epitome of luxury and refinement, inside and out.

So Where Does That Leave These Two Contestants?
Style and versatility are Audi's bread and butter, and the A8 is loaded with both. Careful craftsmanship and innovative technology have helped keep it at the head of its class. The S550 lives and breathes extravagance. Its sumptuous cabin and undivided attention to comfort and convenience are unrivaled in the luxury segment.

Our verdict: The Mercedes-Benz S550
The A8 is a beautifully designed luxury vehicle and far less expensive than the S550, but it simply cannot compete with the sheer opulence of the Mercedes.
Take a closer look at the Audi A8 »