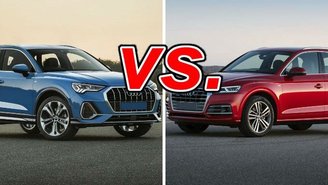 Since its introduction a decade ago, the Audi Q5 has become the brand's best-selling model. As Americans have proven their appetite for luxury crossovers, the market has diversified and filled out. This includes the rise of Audi's own compact crossover, the Q3.
With both models coming off a 2019 redesign, we took a look to see which model comes out on top.
See a side-by-side comparison of the Q3 & Q5 »
What the Q3 Gets Right
The Audi Q3's updates included styling, and with the automaker's newly enlarged grille up front, it may be among their boldest designs. For drivers who like their cars to be noticed, the Q3 may please more than the Audi Q5.
Drivers will also appreciate the Q3's handling. With a confident suspension and the willing turbocharged engine, the Q3 is more fun on a back road than any compact crossover has a right to be.
It packs all the fun in for much cheaper, too – the Q3 starts nearly 10 grand cheaper than the Q5. It includes the same luxury features like leather upholstery and heated front seats, and with the same options for safety and technology.
What the Q5 Gets Right
Although the Audi Q3 may be more tossable in the corners, the Audi Q5 is no slouch, and it comes out ahead on pure power. Its turbo four-cylinder engine makes 252 horsepower and propels the crossover from 0-60 mph in under six seconds – more than a second faster than the Q3.
Surprisingly, the Q5 is also more efficient. The EPA estimates that the Q5 will do up to 24 miles per gallon combined, compared to just 22 mpg for the Q3. We can't explain why the Q5's extra power and weight don't hurt it at the pump, but we're sure owners aren't complaining.
The Q5's larger size means it has the more spacious cabin. Even with the Q3's newly stretched dimensions, the Q5 has nearly 2 inches more rear leg room than the Q3. It has more cargo space too, although not by as much as you might think – 25.1 cubic feet for the Q5 against 23.7 for the Q3.
Variations on a Theme
The Audi Q3 and Audi Q5 strike similar notes, providing practicality and class in comfortable packages. The Q3 is closer to hatchbacks in both size and handling, although it keeps up well in the cargo department.
But the Q5's larger cabin, extra power, and fuel economy give it a significant edge. It commands a price premium, but for most SUV buyers, it's the more versatile car.
Our Verdict: Audi Q5
The Audi Q3 is a likable compact crossover, especially for its inclusive base feature set and lively personality. But we predict that the Audi Q5 will remain Audi's best seller. With its combination of comfort and practicality, it best fulfills the mission of a luxury crossover.
Take a closer look at the Audi Q3 »