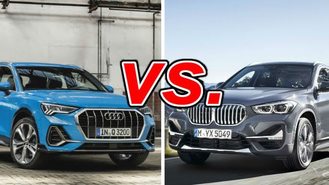 Audi has worked hard to place its nameplate among the big boys in the luxury class, Mercedes-Benz and BMW. The subcompact Audi Q3 is a great place to see where Audi has made huge strides, especially in its latest generation, which arrived in 2019. That said, it still has its work cut out with the BMW X1 bearing down on it.
Has the Q3 done enough to pull ahead of the X1? Continue reading to find out.
See a side-by-side comparison of the Q3 & X1 »
What the Q3 Gets Right
The Audi Q3 starts at $35,695, which is $500 cheaper than the X1. While this isn't a huge difference, it adds value to the Q3's offering.
The Q3's design is just a year old, but it retains the timeless style Audi fans know and love. It also adds a touch of aggression with its sharper body lines, sporty headlights, and an angular grille. This look carries on inside, where it boasts eye-grabbing angles and contrasting colors, catering to younger shoppers.
The Q3's powertrain comes standard with all-wheel drive, while the X1 comes standard with front-wheel drive. Plus, the Q3's chassis does a better job of blending sportiness with comfort, though its numb steering leaves a little to be desired.
The 2020 Audi Q3 also boasts outstanding safety and is an IIHS Top Safety Pick Plus award winner. The Q3 and X1 both aced every crash test and offer standard automatic emergency braking, but the Q3 pulls away with its "Superior" rating in the front crash prevention test to the X1's "Advanced" rating.
The key difference is the Q3's automatic emergency braking system avoided a collision at speeds up to 25 mph, whereas the X1's system failed to stop the vehicle completely from 12 or 25 mph.
Despite its lower base price, the Q3 is well equipped in its base trim. Its standard equipment includes a 10.3-inch digital gauge display, an 8.8-inch touchscreen, a 10-speaker audio system, subscription-free Apple CarPlay and Android Auto, LED headlights, a panoramic sunroof, and more.
What the X1 Gets Right
The BMW X1 gets a refresh in 2020 that includes a larger grille and a few minor nips and tucks. This new look retains the timid but sporty design BMW has long featured. This calmer styling will better fit buyers who prefer not to stand out in a crowd. This look and feel continues inside.
Though it has similar output numbers, the X1 sprints to 60 mph in as little as 6.3 seconds, which is 0.7 seconds quicker than the Audi.
The X1 is a more commuter-friendly crossover with an EPA-estimated 27 miles per gallon combined with FWD, or 26 mpg with AWD. The Q3 only gets 22 mpg combined.
The X1's rear seats are a little friendlier for tall riders with 39.4 inches of headroom and 37 inches of legroom. These numbers beat the Q3 by 1.8 inches and 0.9 inches, respectively.
Cargo space also falls into the X1's "win" column. Its 27.1 cubic feet with the rear seats upright and 58.7 cubes with the rear seats lowered beat the Q3 by 3.4 and 10.7 cubic feet, respectively.
Families and Commuters Will Love the X1
The BMW X1's roomier rear seats make it more family-friendly subcompact crossover, plus it can haul all the kiddos' sports equipment or a week's worth of groceries without breaking a sweat. Commuters will find the X1's superior fuel economy a considerable benefit.
Our Verdict: Audi Q3
Though the BMW X1 gets a few wins, the Audi Q3 offers a lot more tangible benefits, starting with its fully-loaded interior and standard AWD. Add to that a standout interior and exterior look, and the Q3 caters directly to its key demographic: young luxury car shoppers.
Take a closer look at the Audi Q3 »