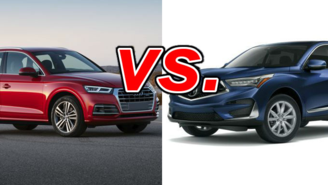 Luxury automakers have dived into the compact crossover market with gusto. Buyers who want versatility and premium appointments on a smaller scale can take their pick of classy, capable vehicles like Audi Q5 and Acura RDX. Both crossovers represent their brand well in this competitive segment, but which one would we rather drive every day?
See a side-by-side comparison of the Q5 & RDX »
What the Audi Q5 Gets Right
Although it doesn't look much different than last year, the 2018 Q5 has undergone a thorough redesign. The body is slightly longer and taller, resulting in more rear leg room and cargo space. The Q5 no longer trails key competitors in these dimensions. With the rear seat folded, the Q5 can take on loads up 60.1 cubic feet.
The Q5 retains its turbocharged 2.0-liter four-cylinder engine, which produces 252 horsepower and 273 pound-feet of torque. As expected, all-wheel drive is standard, but the system can now transfer up to 100 percent of power to the front or rear wheels. All models use a seven-speed dual-clutch automatic transmission with shift paddles. According to the EPA, the Q5 delivers 23 miles per gallon city, 27 mpg highway, and 25 combined.
What the RDX Gets Right
The RDX is all new for the 2019 model year. The redesigned RDX has a 2.0-liter turbocharged inline four-cylinder engine under the hood. It delivers 272 hp and 280 lb-ft of torque and is matched to a new 10-speed automatic transmission. The EPA rates the RDX and its new engine at 22 mpg city, 28 highway, and 24 combined, or 21/27/23 mpg (city/highway/combined) with all-wheel drive, putting it close to the Q5.
It's one of the more affordable vehicles in the compact luxury crossover class, but there's certainly nothing skimpy about it. Standard features include a 10.2-inch display, 19-inch wheels, LED headlights and taillights, heated front seats, a leather-wrapped steering wheel, a power liftgate, a sunroof, WiFi, Apple CarPlay, satellite radio, lane keeping assist, automatic emergency braking, forward collision warning, and adaptive cruise control.
The 2019 RDX gets the newest generation of Acura's all-wheel-drive system, which improves handling and performance even on dry pavement, but it's a $2,000 option where Audi's system is standard on the Q5.
The Best of Both
The Audi Q5's sharp reflexes and intuitive all-wheel-drive system make it especially rewarding to drive. Now that there's more room in back, the Q5's practical side is fully up to par.
The Acura RDX offers a long list of standard equipment for the money and a responsive engine/transmission combination. It's a well-rounded choice aimed squarely at the heart of the market.
Our Verdict: Audi Q5
The newest Audi Q5 proves it's possible to grow up without getting soft.
Take a closer look at the Audi Q5 »