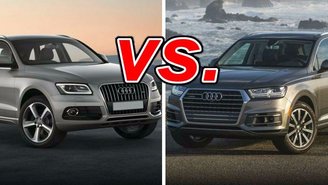 Audi's proven understanding of the luxury SUV market is proven again by the Q5 and Q7. The vehicles are similar except for the obvious size difference. The Q5 is compact; the Q7 is a three-row. Selection of one over the over should come down to intended use, lifestyle of the owner, family size, and other day-to-day considerations.
Both vehicles come well-equipped for their respective classes and are technology forward. Their infotainment systems are top drawer, the seats are excellent, and rear seating room is good. It's mostly about size in this battle, but also a bit about the driving experience. So which is the better value for shoppers considering both vehicles? Here's what you need to know.
See a side-by-side comparison of the Q5 & Q7 »
What the Q5 Gets Right
Dainty when compared to the Q7, Audi's best-selling Q5 weighs in at 4,400 pounds, seats five, and will carry 57.3 cubic feet. It is by far the more city-friendly option, and feels sportier and more youthful overall.
The Q5 feels sold but very nimble. Two engines are available: a 220-horsepower four-cylinder and a 272-horsepower V-6. Its MSRP with destination starts from $41,850, but adding popular options can boost this considerably.
What the Q7 Gets Right
The much larger Q7 weighs in at 7,700 pounds, seats seven, and has a cargo capacity of 71.6 cubic feet. It is noticeably quieter than the Q5, even with its beefy 333 horsepower supercharged V-6. It's quicker off the line and quicker to 60 mph, too.
The Q7 is definitely a luxury vehicle. It's powerful and refined, and never lets the driver forget it. Base pricing starts at $55,750 with destination before adding popular equipment.
Verdict: Audi Q7
Audi was able to deliver one of the critics' favorite SUVs this year with the Q7. To compete, enough amenities and luxury touches would have to be added to the Q5 to make the price difference between the two unexceptional. The Q7 is luxurious and comfortable while still packing a punch on the highway. It feels special, like a truly premium vehicle.
Take a closer look at the Audi Q5 >>