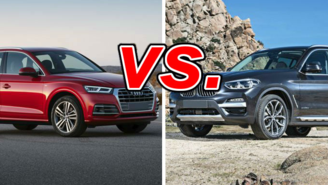 Luxury crossovers are some of the best-selling vehicles on the market today, and two of the kings in this segment are the Audi Q5 and BMW X3. Both models deliver great features and comfort, but they also pack some punch for their refined nature.
But which of these two compact luxury crossovers puts it all together in a better package? Keep reading to find out.
See a side-by-side comparison of the Q5 and X3 »
What the Q5 Gets Right
With a starting price of $42,475, the Audi Q5 is $1,170 cheaper than the BMW X3. On top of the price benefit, the Q5 has many standard creature comforts that buyers have to pay for in the X3, like leather seating, automatic emergency braking, a higher-end audio system, and more color options. Moving up the trim-level ladder, the Q5's features relative to the X3 just get better.
The Audi Q5's standard engine is also more potent than the X3's at 252 horsepower and 273 pound-feet of torque. Plus, its ride quality is outstanding and Audi's all-wheel-drive system is one of the best in the business in the slippery stuff.
Inside, the Q5 has a bit more passenger room with its 37.8 inches of rear seat leg room and 56.5 inches of rear shoulder room.
What the X3 Gets Right
The X3 starts off with brand recognition that's sure to give the X3 more implied value than the Q5. The X3 is also the better cargo-toting machine with its 28.7 cubic feet of cargo room with the rear seats up and 62.7 cubes with the seats folded. Occupant safety is also top-notch in the X3 with its IIHS Top Safety Pick Plus rating, though the Q5 is no slouch with a Top Safety Pick rating of its own.
While the base X3's engine is a touch underpowered, the M40i model's 3.0-liter six-cylinder pumps out 355 hp and 369 lb-ft of torque, besting the SQ5 by one hp. Despite this, the X3 M40i sprints to 60 mph 0.5 seconds quicker thanks to its lower curb weight.
Raw Performance Goes to Bimmer
If you want raw performance, BMW always has been and remains the go-to luxury brand. The X3 continues this trend with its zippier performance relative to the Q5, despite some losses in overall output.
Verdict: Audi Q5
As an entire package, the Audi Q5 is the better overall luxury crossover. It has more standard features, a lower price, and a new look that makes the BMW X3 look dated.
Take a closer look at the Audi Q5 »