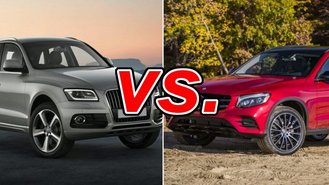 Occupying the middle spot in Audi's group of premium crossover models, the Q5 has been a strong seller in the compact class. Handsome, tasteful design accounts for part of its appeal. So does a broad range of excellent powertrain choices. Not merely a scaled-down near-clone of the bigger Q7 SUV, the Q5 comes closer to an Audi wagon. Fit-and-finish is top-notch, and a high driving position provides fine visibility.
Introduced for the 2016 model year, the GLC300 compact luxury crossover replaces the previous GLK-Class. Whereas the departed GLK was square and angular, the new GLC-Class is a lot more rounded, created with softer, sleeker edges and weighing less. Both models fit into the larger end of the compact category. Structurally related to C-Class sedans, the GLC300 has standard fatigue alert and frontal-collision warning.
See a side-by-side comparison of the Q5 & GLC300 »
What the Audi Q5 Gets Right
Audi's crossover ranks high in carlike handling as well as acceleration—especially when passing. In basic Q5 2.0T trim, the turbocharged 2-liter four-cylinder engine develops 220 horsepower. Moving up the performance scale, the Q5 3.0T holds a supercharged 3-liter V6, generating 272 horsepower. Audi also offers a hybrid (gas/electric) powertrain that uses the 2-liter engine. An eight-speed automatic transmission yields quick gearchanges.
Sales of the previously-available diesel engine have been suspended, but the Q5 hybrid gets a fuel-economy estimate of 24 mpg in city driving and 30 mpg on the highway. Each powertrain is tempting, but we favor the 2.0T, which is lighter in weight, and almost as swift as the 3.0T with its V6. Four-cylinder gas mileage is estimated at a so-so 20/28 mpg (city/highway), versus 18/26 mpg for the V6. Rear legroom is good, within a simple cabin.
What the Mercedes-Benz GLC300 Gets Right
Beneath the GLC300 hood, a turbocharged 2-liter four-cylinder engine develops 241 horsepower and 273 pound-feet of torque, driving a nine-speed automatic transmission. As a fuel-saving measure, Eco mode permits extended coasting when appropriate. Fuel economy ranks around average for this class, EPA-estimated at 21 mpg in city driving and 28 mpg on the highway with 4Matic all-wheel drive. Rear-drive manages one additional mpg in urban use.
Differences between the prior GLK model and the new GLC300 reach beyond the visual, starting with a wheelbase that's grown by nearly 5 inches. That increase adds back-seat legroom, along with a larger cargo floor. New airbags have been installed, and an air suspension is available. Up front is a clean-looking dashboard, within an attractive and quiet cabin, more sophisticated than that of its predecessor.
Which German automaker deserves kudos for a compact crossover?
Each is tempting, but Audi's refined Q5 excels in several areas, from rich design to satisfying handling and performance.
Our Verdict: Audi Q5
Audi's compact crossover has been a strong seller for good reason.
Take a closer look at the Audi Q5 »