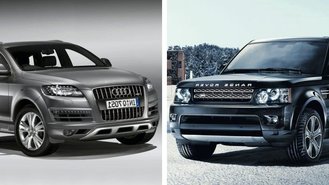 Both the Range Rover Sport and the Audi Q7 have been stalwarts of the large luxury SUV class, debuting in 2006 and 2007, respectively. Now, 6 years later, which one of these go-anywhere vehicles has better withstood the test of time?
See a side-by-side comparison of the Q7 & Range Rover >>
What the Audi Q7 Does Right
The Q7's biggest strength is bringing the Audi driving experience to the largest vehicle in the German automaker's lineup. The quick steering and tight turning circle make the Q7 feel more like a compact crossover than the seven-passenger hauler that it actually is. Like other Audis, the Quattro all-wheel-drive system provides good grip in all road conditions without requiring any extra button pushing from the driver.
Two versions of Audi's 3-liter supercharged V6 are available: a 280-horsepower unit in regular 3.0T models, and a 333-horsepower high-pressure-boost version in S-Line models. A torquey 3-liter diesel V6 is also available. All engines are paired with an 8-speed automatic and provide adequate performance.
What the Range Rover Sport Does Right
The badge may say Range Rover, but the Range Rover Sport is much smaller and more agile than its bigger, heavier brother. The family resemblance is clear, however, and even after 7 years, the Range Rover Sport still looks classy. This truck is more than just a pretty face, though. The Supercharged model can rip from 0 to 60 in 5.9 seconds, and all Range Rover Sports can ford up to 27 inches of water.
Off-road driving is handled by Land Rover's Terrain Response system, which lets the driver choose between five settings according to the terrain. Once a selection is made, the Range Rover Sport does the rest, adjusting the four-wheel drive, Hill Descent Control, and suspension height.
Which One Has Withstood the Test of Time?
While both the Audi Q7 and the Range Rover Sport can hold their heads high in the luxury SUV market, the Range Rover Sport is the one that will stand out in the country club parking lot. It's got the looks, it's got the prestige, and it's got the V8 power to back it all up. As much capability as the Audi has, the Range Rover comes out ahead both on and off of the pavement.
Our Verdict: Range Rover Sport
The Audi's seven seats and available diesel power make a strong case for the Q7 but, ultimately, the Range Rover's British classiness and V8 muscle win us over.
Take a closer look at the Audi Q7 >>