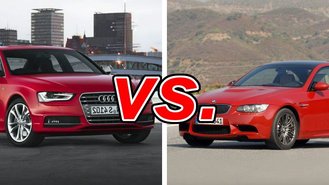 In the world of elite European high performance, there are the BMW M3 and the Audi S4... and then everything else. Both cars brilliantly combine the comfort and usability of "regular" automobiles with the ridiculous performance of impractical exotics.
BMW has worn the crown in this small sub-class since rolling out the original M3 in the mid-eighties. The S4 hasn't enjoyed the same level of acclaim, but has steadily built a devoted owner base.
See a side-by-side comparison of the S4 & M3 >>
Which is the better choice for someone seeking maximum performance in a conservative disguise?
The Legendary M3
The fourth generation E92/E93 continues the M3 tradition of separating itself from the standard 3 Series with flared wheel arches, a quad exhaust and an aggressive body kit. The V8 has grown to four liters and produces a vertigo-inducing 414 horsepower. The engine is mated to a double-clutch seven-speed transmission; a six-speed manual is also available. Inside, the M3 looks like an ordinary BMW, apart from a chunkier steering wheel, special trim, gauges, and loads of M badging. It can be ordered as a coupe or hardtop convertible.
The Brilliant S4
The fifth generation S4 is available only as a sedan, powered by a supercharged 3-liter V6 that cranks out 333 horsepower. The interior is more spacious than the M3. Other than the flat-bottom Indy-style steering wheel, the S4 does not feel as sporty as the M3, and neither does its handling -- even with Audi's trademark Quattro all-wheel drive. The S4's power is transferred through a seven-speed sequential manual or six-speed traditional manual transmission.
Are They Equals?
They are both performance-oriented versions of luxury sedans, and previous generations have competed admirably.
Our Verdict: BMW M3
The M3 is the unquestioned performance winner, out-handling and overpowering the S4. Audi fans have to go to the 430 horsepower RS5 to compete with this M.
Take a closer look at the Audi S4 >>