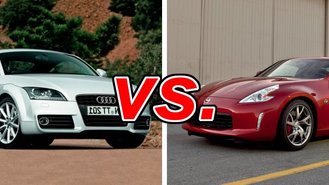 There is something special about two-seat convertibles -- from the Mazda Miata to the Ferrari 430, they all have cachet. When it comes to the Audi TT and Nissan 370Z it's easy to see why buyers would opt for either.
See a side-by-side comparison of the TT & 370Z >>
Although they occupy different price points, each has a lot to offer -- yet so many people still wonder which is the right fit for them.
Audi TT: A German for All Seasons
A soft-top convertible with a teardrop appearance, the Audi TT combines luxury with substantial heft underneath the sheet metal. Buyers get all-wheel drive for poor weather confidence, seats that adjust in every direction and a nine-speaker sound system.
While handling is deft to begin with, available options can add tunable damper systems to firm up the ride at the switch of a button. It offers a lot in a small package -- and one that is immediately recognizable on the road.
The Nissan 370Z's Strong Points
A V6 helps the Nissan 370Z to better power numbers and faster acceleration to 60 mph. Handling is sharp and the Z carries the torch for Nissan's history of sports cars as an affordable, well-appointed option for many.
The 370Z offers leather power seats, a Bose speaker system and more for a price that undercuts the TT's MSRP by thousands.
Why Do People Opt for the TT and Not The Z?
The Nissan 370Z offers a comfortable midpoint between less expensive competitors like the Toyota GT86 and pricier premium rivals like the Audi. Its total package is sleek -- maybe even slinky -- and catches the eye with rakish good looks.
The Winner: Audi TT
If you get what you pay for, buyers should expect a lot out of the Audi TT. While the general shape is years old, it never fails to catch eyes. The driver is coddled by swaths of soft-touch materials and interior amenities, and thrilled by lithe handling through the curves. A Nissan 370Z may appeal to a younger audience, but the Audi TT makes owners feel like they made it.
Take a closer look at the Audi TT >>