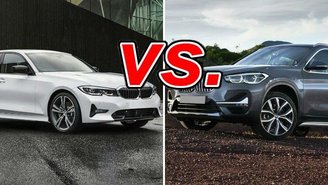 BMW has steadily grown its crossover lineup, and one of its better bargains in this growing segment is the subcompact X1 crossover. This small crossover includes plenty of room for adults in the rear seats and a decent-sized cargo area all wrapped up in a luxurious cabin.
Despite its focus on crossovers, the German automaker has continued to refine the 3-Series, keeping it ahead of the competition. The newest 3-Series continues its path as a luxurious five-seater that also offers plenty of fun in the corners and cargo-friendly wagon and Gran Turismo body options.
While it is not common to put a compact luxury sedan and a subcompact luxury crossover in a head-to-head competition, some buyers may wonder if the cheaper,roomier X1 is a better value. Continue reading to find out which is the better buy for you.
See a side-by-side comparison of the 3-Series & X1»
What the X1 Gets Right
The BMW X1 starts things off on the right foot with a significantly lower base price: $35,945 versus $41,745 (destination fees included). This leaves a lot of wiggle room to add features or pocket as savings. Despite that lower price, the X1's standard equipment is similar to the base 3-Series' standard equipment. It includes 18-inch wheels, a 6.5-inch infotainment screen, leatherette upholstery, a leather-wrapped steering wheel, power front seats, automatic emergency braking, and more.
As a crossover, the BMW X1 also gets an edge in interior room, especially in the rear seats where it offers 39.4 inches of head room, 55.2 inches of shoulder room, and 37 inches of leg room. These measurements beat the 3-Series by 1.8 inches in head and leg room, 0.6 inches in shoulder room.
The X1 is also more cargo-friendly with its 27.1 cubic feet of space with the rear seats up and 58.7 cubes with its rear seats folded. Even the more cargo-friendly 3-Series Gran Turismo comes up short at 18.4 cubes with the seats up and 56.5 cubes with the seats lowered.
What the 3-Series Gets Right
The BMW 3-Series gets a head start on the X1 in styling, as it boasts the latest in Bimmer design that is sure to catch its fair share of stares. Plus, buyers can get the 3er in three body styles to best suit their needs: sedan, wagon, and Gran Turismo.
Under its hood, the BMW 3-Series offers a wider range of powertrain options that start with a 255-horsepower 2.0-liter turbocharged four-cylinder. That trumps the X1's sole engine option by 27 hp. The 3-Series' M Sport package enhances performance with larger wheels and a tighter suspension. There is also the 340i model that adds a 320-hp turbocharged 3.0-liter six-cylinder engine.
The 3-Series widens the gap between it and the X1 with IIHS Top Safety Pick+ honors thanks to "Good" crash-test scores, "Superior" front-crash avoidance, and "Good" scores with the optional LED headlights. The X1 also received "Good" crash-test scores, but only earned an "Advanced" rating in the front-crash avoidance test, and a "Marginal" score in headlight testing.
Buyers can add to the 3-Series' safety with optional adaptive cruise, rear parking assist, and more.
Cargo-friendly subcompact crossover
The BMW X1 can't hold up to the legendary BMW 3-Series in a head-to-head battle, but it is not without its place in the Bimmer lineup. Buyers who need more cargo and people room than the 3-Series offers without bumping into a larger SUV will find that balance and equivalent luxury in the X1.
Verdict: BMW 3-Series
The BMW 3-Series may require a significant premium over the X1, but with that extra cash comes a stunning appearance, a more lively drive, more engine options, and tons more safety. This all makes the 3-Series well worth the added cash relative to the BMW X1.
Take a closer look at the BMW 3-Series »