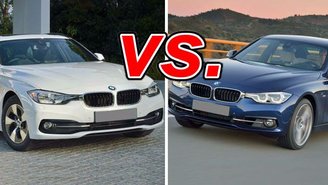 Since its redesign, BMW has shuffled the 3-Series lineup around, introducing the entry-level 320 and renaming the 328 the 330. That's in addition to the 340, and of course, the M3.
With so many choices in the 3-Series lineup, some buyers could find themselves comparing the range's various models, like the 320 and the 330. So, we took a deep dive into both cars, to find out which presents the best value to Joe Consumer. Continue reading to learn more.
See a side-by-side comparison of the 320 & 330 »
What the 320 Gets Right
As the most basic 3-Series on the market, the BMW 320 boasts a lower starting price of $34,445 (destination fees included), allowing for additional options or a little extra savings over the 330. Despite its relatively low base price, the 320 is far from stripped down. It includes standard 17-inch wheels, keyless entry, push-button start, auto wipers, dual-zone auto climate control, premium leatherette upholstery, a 6.5-inch display, and a nine-speaker audio system.
While its 180 horsepower falls well short of the 330's output, the 320 has fuel economy on its side. It returns up to 35 miles per gallon the highway with either the eight-speed automatic or the six-speed manual transmission.
What the 330 Gets Right
With its higher base price of $39,745 (destination fees included), the 330 has a little room for a few extra features. On top of the 320's standard equipment, the 330 gains power front sport seats, heated, power-folding mirrors with an auto-dimming function, paddle shifters on auto-equipped models, a driver's side memory function, and split-folding rear seats.
Also in favor of the 330 is its more powerful 2-liter turbocharged four-cylinder. This engine churns out 248 horsepower and 258 pound-feet of torque. This allows the 330 to sprint to 60 mph in as little as 5.5 seconds (about 1.5 seconds quicker than the 320).
We'll Take Savings Over Speed
The entire 3-Series lineup is incredible, but when comparing these models to each other, things get a little tricky. The 330 is fun and has all the speed and handling any BMW buyer would want, but its heftier price is a tough pill to swallow.
Verdict: BMW 320
Sure, the 330's superior straight-line performance is tempting, but the average family is more worried about features than speed. With the 320, they can add plenty of optional goodies, score the 3-Series' excellent driving character, and still end up paying less than what a base 330 demands.
Take a closer look at the BMW 320 »