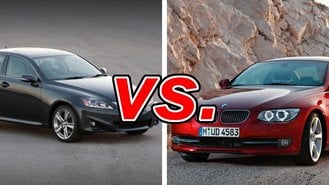 The most affordable member of the 3 Series family, the BMW 328i sedan endures as a star player in the compact luxury class. Its fine blend of performance, quality and comfort appeals to a diverse group of buyers, from young professionals to empty nesters.
See a side-by-side comparison of the 328 & IS 250 >>

In response to the accomplished 3 Series, Lexus offers the IS line of sporty sedans that starts with the 250. Like its German competitor, the IS 250 is a trim rear-driver with premium appointments and impressive quality.

Both cars occupy a market segment loaded with excellent choices. Which does more to stand out from the pack
BMW Highlights
The 328i runs with a 2-liter turbocharged four-cylinder that's both powerful and efficient. Horsepower is strong at 240, and fuel economy is top-notch at 28 mpg in combined city and highway driving. The four-cylinder actually packs more punch than the familiar inline-six still used in other body styles.
Like the rest of the car, the interior is driver-oriented and constructed to BMW's usual high standards. Buyers can select from three optional interior designs: Luxury, Sport and Modern, but even the standard cabin offers exceptional fit and finish.
Lexus Highlights
Performance-minded driver will appreciate the IS 250's crisp handling and overall agility. Surprisingly, interior quality matches that found on far more expensive Lexus sedans. The IS feels competent and plush from the driver seat, which makes it a rewarding choice for daily driving.
Like the BMW, the 250 is the least expensive model in its line, which means it gets the smallest engine, a 2.5-liter V6 generating 204 horsepower.
The Bottom Line
Both models represent their brand's respective strengths quite well, even at the entry level. The BMW shines as a serious driver's car with luxurious trappings. The Lexus excels as the inverse: a refined luxury car with an injection of sportiness.
Our Verdict: BMW 328i

By virtue of its more powerful engine and tauter handling, the BMW wins this matchup.
Take a closer look at the BMW 328i >>