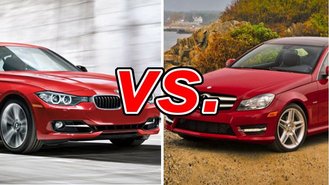 Though no longer the most affordable member of the 3 Series family, the BMW 328i sedan endures as a star player in the compact luxury sedan class. Its fine blend of performance, quality and comfort appeals to a diverse group of buyers, from young professionals to empty nesters.
See a side-by-side comparison of the 328i & C250 »
Its arch rival, the Mercedes-Benz C250 sedan, takes aim at the same market with impressive virtues of its own. The C300 offers classic Benz styling cues and refined character in a package that's thoroughly modern and efficient.
Both cars are long-running players in a market segment that's now loaded with excellent alternatives. Which does more to maintain its competitive edge?
Where the BMW Excels
The 328i runs with a 2-liter turbocharged four-cylinder that's both powerful and efficient. Horsepower is strong at 240, and fuel economy is top-notch at 27 mpg in combined city and highway driving. What's more, its eight-speed auto transmission delivers strong and precise shifts. This helps the BMW 328i be a tad quicker to 60 mph than the C300.
Like the rest of the car, the interior is driver-oriented and constructed to BMW's usual high standards. Buyers can select from three optional interior designs -- Luxury, Sport and Modern -- but even the standard cabin offers exceptional fit and finish.
Where the Mercedes-Benz Excels
The C250 Sedan became the C300 in recent years, as Mercedes attempts to simplify its naming system. It comes in Luxury or Sport designations, each with its own suspension tuning, grille, steering wheel and styling details. This split-personality approach is a convenient way for buyers to adapt the car to their liking. Either way, its tailored styling and smart interior layout are bound to please admirers of the brand.
Power comes from a turbocharged 2-liter four-cylinder with 241 horsepower, matched to a standard seven-speed automatic. Fuel economy reaches 28 mpg combined, putting it just ahead of the BMW.
Which Works Better?
Both cars deliver what's important in this class: quality, refinement, and supremely competent performance. Beyond that, personal taste rules the day. Sporty types will be drawn to the BMW, while more reserved folks will like the Mercedes. It's hard to imagine either set regretting their decision.
Our Verdict: BMW 328i
More horsepower and slightly better fuel economy tilt the scale in the BMW's favor.
Take a closer look at the BMW 328i »