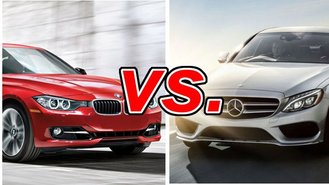 The Mercedes C-Class and the BMW 3 Series have battled in the luxury-car segment for quite some time. And the competition is fiercer than ever, as Mercedes releases its fully redesigned C300 just a few years after the redesigned 328i's debut.
Both models have a slew of standard features and plenty of performance to satisfy most luxury sedan buyers, but one has to come out on top. To help you in your decision between the two, we put the Mercedes-Benz C300 and the BMW 328i in a head-to-head comparison.
See a side-by-side comparison of the 328 & C300 »
What the C300 Gets Right
The C300 starts things out with a more powerful engine that delivers 241 horsepower and 273 pound-feet of torque -- slightly more than the BMW. On top of the higher-output engine, the C300 also has an all-new look that makes the 328i look a little dated.
The C300 also carries a few extra features that help give it a slight advantage, including rear seatbelt pretensioners, child seat detection for the front seat that deactivates the airbag, power headrests, and power front lumbar support.
See more luxury sedan comparisons here »
What the 328i Gets Right
First, the 328i gets a nice head start in terms of pricing, as it is less expensive than the standard C300. Additionally, the BMW gets standard wood-trim accents, standard rear air conditioning, and a nine-speaker audio system.
The 328i also gets a slight jump on the C300 in terms of roominess. There's a bit more space in the front and back seats, and also in the trunk.
BMW buyers can have a six-speed manual transmission in place of the standard eight-speed automatic at no extra charge. What's more, despite being slightly down on power, the 328i is actually 0.4 seconds quicker to 60 mph than the C300 with the automatic transmission, or 0.5 seconds with the manual.
Why Opt for the 328i?
It was a close battle, but the 328i just couldn't convince us that it is a better luxury sedan than the C300. However, for buyers who want better straight-line performance than the C300 without sacrificing too many features or paying more money, the 328i is a great option.
Verdict: Mercedes-Benz C300
This was a tough decision to make, as the BMW 328i and the C300 were so closely matched in just about every metric. However, the deciding factor was that the C300 simply has a more up-to-date look. The C300 is just better looking.
Take a closer look at the BMW 328 »