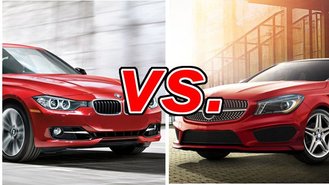 In the luxury market, a highly optioned entry-level sedan may compete almost directly with a less optioned sedan from the next segment up. This could be the case by buyers looking at cars like the Mercedes-Benz CLA250 and the BMW 328i. So, which one gives the best bang for its buck?
See a side-by-side comparison of the 328 & CLA250 »
What the CLA250 Gets Right
The most obvious advantage of the CLA250 is getting more options for the money, or simply spending less to drive home in a luxury sedan. But there is more to it than just that, as the CLA250 also delivers superior fuel economy at 26 mpg city and 38 mpg highway in its standard setup, or 24 mpg city, 33 mpg highway and 27 mpg combined with its 4MATIC all-wheel drive system.
The CLA250 also wins in terms of design, as its coupe-like profile gives it a sleek look, while also providing easy access to the rear seats. Additionally, the CLA250 comes standard with a 12-way power driver's seat, sports front seats, Bluetooth audio streaming, and a seven-speed dual-clutch transmission.
See more luxury sedan comparisons here »
What the 328i Gets Right
Though its looks are not as sporty as the CLA250's, some people may prefer the 328i's more restrained appearance. Its looks and size also give it an advantage in terms of cabin room, particularly in the rear seat, where it has an extra eight inches of legroom, 2.3 inches of headroom, and 1.9 inches more shoulder room.
On top of being roomier, the 328i is also a superior performer in a straight line, as its 2-liter TwinPower Turbo engine puts down 240 horsepower and 255 pound-feet of torque. With the optional manual transmission, this allows the 328i to hit 60 mph in just 5.7 seconds, while the standard eight-speed auto transmission is slightly slower at 5.8 seconds -- that's 1.2 seconds and 1.1 seconds quicker than the CLA250, respectively.
The 328i also has a few extra features that the CLA250 doesn't have, like a nine-speaker audio system and brake energy regeneration. Additionally, the 328i has a superior ride quality to the more sports-tuned CLA250.
Writing Off the CLA250?
The CLA250 loses in a close battle to the 328i, but that doesn't mean we can write it off as a lost cause. There was a reason Mercedes dealers couldn't keep it in stock, and this is because there is a good market for it. The CLA250 is best suited for young adults without children, or middle-aged folks with no at-home children. The cramped rear seat and somewhat rough suspension is not great for large families, but its price is great for these specific buyers who are looking for a lively ride at a low cost.
Verdict: BMW 328i
Though the BMW 328i lacks a few features and loses out in pricing, its comfy ride quality and significantly larger rear seat makes it a better all-around luxury sedan. It is also a great performer in a straight line and can certainly handle itself in the corners.
Take a closer look at the BMW 328 »