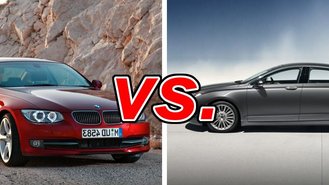 Lincoln admits it's pulled out all the stops with the new MKZ, giving everything it has to be a serious competitor in the entry-level luxury sedan segment. It is a striking piece, though, and being based on the latest Ford Fusion gives it the essential ingredients to make it a very good car. But if it's going to be a credible force in the segment, it has to take on the king: the BMW 328.
See a side-by-side comparison of the 328 & MKZ >>
What the BMW 328 Gets Right
The BMW 3 Series has been king of the segment for decades. Whereas it was once a focused sports sedan, it's evolved into a well-rounded, comfortable sedan that's good to drive, fuel efficient and a rolling status symbol. It's not the abysmal value for money BMWs used to be, either, with lots of usable features coming as standard. The rear-wheel drive setup is still the way to get the most out of the stellar chassis.
What the Lincoln MKZ Gets Right
The front-wheel drive MKZ spoils its sporting credentials, so Lincoln relies on style and features to carry the car. It does well, because all things considered it's a sharp car with good engines -- even a highly efficient hybrid option. Unlike BMW, Lincoln chose to be ambitious with the looks and it pays off. The MKZ turns heads and its detailing is more creative than the German.
Is the MKZ a Credible Challenger?
However, Lincoln still loses out in some areas. Some of the interior plastics are still underwhelming for a luxury car. And the controls are needlessly complex, not that those in the 3 Series could be called simple. The Lincoln is also less efficient and effervescent to drive. Worse still is that the Lincoln doesn't differentiate itself well enough from the Fusion, which is a very good car and nearly $10,000 cheaper when similarly equipped.
Our Verdict: BMW 328

If Lincoln were less ambitious with the pricing, the MKZ could be considerably more compelling. Unfortunately, it's priced square-on with the big rivals and it comes up short in the major leagues. Still, the BMW is a tough competitor to beat.
Take a closer look at the BMW 328 >>