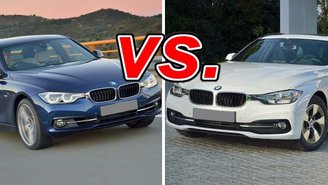 Though it's undergone some serious changes in recent years – new names, new look and the birth of the 4-Series Coupe – the 3-Series is still one of the greats.
When shopping for the perfect 3-Series, some buyers may find themselves stuck between the lower-cost 330 and the more powerful 340. We'll drive a wedge between these two models and pour through their features and specs to help you decide which is the better model for you.
See a side-by-side comparison of the 330 & 340 »
What the BMW 330 Gets Right
The BMW 330 appeals to buyers hoping to pick up this legendary luxury sports sedan without breaking the bank. Despite its lower price, the mid-range 3-Series still comes with plenty of gear as standard, like dual-zone climate control, 17-inch wheels, auto wipers, premium leatherette upholstery, power-adjustable sport seats with driver's side memory, and power-folding mirrors with heat and auto-dimming functions.
The 2.0-liter four-cylinder engine gives the 330 its 248 horsepower and is a good bit less powerful than the 340's base engine, but it's more efficient, at up to 23 miles per gallon city and 34 mpg highway.
What the BMW 340 Gets Right
Coming in at a higher price, the BMW 340 has room for a handful of extra standard features. These extra goodies include lumbar support, satellite radio, keyless entry with push-button start, a moonroof, LED headlights, a 16-speaker Harman Kardon audio system, and the M Sport Package (buyers can swap this for the Sport or Luxury Packages, too).
In addition to its extra features, the 340 has more power at its disposal, thanks to the 3.0-liter, turbocharged six-cylinder's 320 horsepower and 330 pound-feet of torque. The 340 hits 60 miles per hour in under five seconds with either its standard six-speed manual or available eight-speed automatic transmission.
Need for Speed? The 340 is for You
The 340 is a fine example of the 3-Series breed. Its powerful engine delivers the straight-line speed fans expect and its handling ability is as fun as ever. Unfortunately, you are locked into a higher price, which can limit your options.
Verdict: BMW 330
With the 330, buyers are giving up some of the power and speed, but not the handling. Also, with its lower price, there's room for you to work in the options you want. Want a 330 with all the same features as the 340 (minus the engine, of course)? You can do that and pay a little less than the higher-spec model. Alternatively, you can go with other options on your 330 and still save money, including the Driver Assistance Package, the Driver Assistance Plus Package, or even the Track Handling Package.
Take a closer look at the BMW 330 »