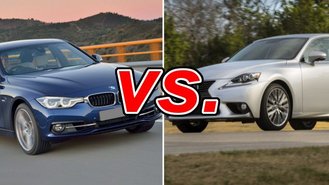 Like few rival sport-luxury brands, BMW has a lengthy heritage of German automotive excellence. Even in less-powerful versions, BMW's 3 Series delivers an invigorating driving experience, resulting from the car's superior handling abilities and dynamic characteristics. Styling, as usual, is subtly tasteful, relying upon classic sport-sedan proportions. For 2016, the 335i sedan got a model-designation change to 340i.
When the IS debuted for 2002, it was smaller than today's third-generation, as redesigned for 2014. In fact, the 2016 model hardly seems related to the original. The IS now comes with a choice of three engines: new turbo four-cylinder in the IS 200t, 3.5-liter V6 in the IS 300, and a stronger, 306-horsepower version of the V6 in the IS 350 sedan—which comes with either rear-wheel or all-wheel drive.
See a side-by-side comparison of the 340 & IS 350 »
What the BMW 340 Gets Right
BMW owners anticipate unfettered behind-the-wheel satisfaction, in daily commutes or breezing through curvy mountain roads. Performance is another strength. In the 340i, BMW's six-cylinder engine develops 320 horsepower, mating with an eight-speed automatic or six-speed manual transmission. Rear-drive is standard, but BMW's xDrive all-wheel-drive system is available.
Up-to-date active safety features are available, too, but only by purchasing one of the Driver Assistance packages. Fuel economy is better than it used to be. With automatic, the rear-drive 340i is estimated at 22 mpg in city driving and 33 mpg on the highway. Manual shift (offered only with rear-drive) drops the figures to 20/30 mpg. Flaws are few, including a comparatively tight back seat, in an otherwise elegant cabin that provides splendid comfort.
What the Lexus IS 350 Gets Right
Performance with the 3.5-liter V6 is a satisfying plus, though acceleration isn't quite as stirring as some entrants in this league. Unlike the turbocharged four-cylinder in the IS 200t, there's no turbo lag to contend with. Handling is generally on the ordinary side, but optional variable-ratio steering, available in IS 350 F Sport models, sharpens the sedan's responses noticeably.
Ride quality stretches from nearly gentle on smooth surfaces to substantially harsher, when the pavement becomes more troublesome. A touch of tautness can be felt much of the time. Fuel economy trails thriftier rivals, EPA-estimated with rear-drive at 19-mpg in city driving and 28 mpg on the highway. Passenger comfort has its sore points. Reaching the back seat can turn into a body-twisting adventure. Front seats are snug, with access impeded by a low roofline.
Does six-cylinder BMW compact compare to boldly styled V6 Lexus?
Judged on performance alone, this could be a close call due to Lexus's strong V6. For a valid comparison, though, we must also consider such factors as refinement and comfort.
Our Verdict: BMW 340
Taken as a whole, the most powerful version of Lexus's smallest sedan can't quite match, much less overtake, the six-cylinder BMW.
Take a closer look at the BMW 340 »