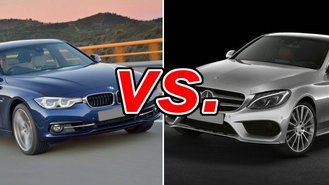 Not many sport-luxury auto companies have a more illustrious heritage than BMW, with its heritage of German engineering excellence. Even in milder-mannered versions, BMW's 3 Series promises an invigorating experience, emanating from the model's well-known handling capabilities and overall dynamic characteristics. Subtly tasteful in design, the 3 Series is based upon classic sport-sedan proportions. For 2016, the 335i got a model-designation change to 340i.
Redesigning for 2015 made the midsize Mercedes-Benz C-Class sedan a tad larger and a lot more luxurious. Charming and attractive inside and out, the sedan has a significantly improved interior, which suggests the high-end S-Class. The C300 is the entry-level model in the C-Class lineup: the only available with rear-wheel drive, and the only one with a conventional suspension rather than an adaptive setup.
See a side-by-side comparison of the 340 & C300 »
What the BMW 340 Gets Right
Whether they're dawdling along in rush-hour traffic or sailing along curvy mountain roads, BMW 3 Series owners expect—and receive—satisfying nimbleness and an athletic nature. Performance matters, too. In the 340i, a six-cylinder engine develops 320 horsepower, working with either an eight-speed automatic or six-speed manual transmission. Rear-drive is standard, but xDrive all-wheel drive system can be substituted.
A number of active safety features are available, but only as part of Driver Assistance packages. Fuel economy has improved. With automatic, a rear-drive 340i is EPA-estimated at 22 mpg in city driving and 33 mpg on the highway. Manual shift (rear-drive only) sinks the figures to 20/30 mpg. Among the few flaws is a somewhat tight back seat. Otherwise, the elegant cabin provides splendid comfort.
What the Mercedes-Benz C300 Gets Right
Superior steering makes for a fine-handling sedan. Naturally, ride comfort is another plus, since this is a Mercedes-Benz, and performance is sufficiently spirited even when passing. Beneath the hood, the C300 contains a 2-liter turbocharged four-cylinder engine that produces 241 horsepower, mated with a seven-speed automatic transmission. Stop/start technology allows the engine to shut off at stoplights.
Fuel economy is estimated at 25-mpg city and 34-mpg highway. With 4Matic all-wheel drive, the estimate dips to 24/33 mpg. Though modified for 2015, the COMAND infotainment setup still isn't the easiest to use. Last year's redesign didn't improve back-seat space by much, and the low roofline restricts ease of entry into the rear compartment. Front seats are spacious, though the wide console takes up quite a bit of room.
Which German-brand turbo-four sedan takes the prize?
At least, we're comparing apples to apples in this instance. These German-made premium sedans are closely matched, providing many of the same benefits.
Our Verdict: Mercedes-Benz C300
Despite the sportier nature of the BMW 3 Series, we're voting for the C300 because of its mix of mannerly road behavior with a growing level of luxury. But it's a mighty close call.
Take a closer look at the BMW 340 »