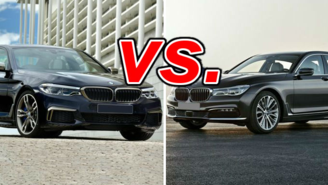 Though crossovers dominate BMW's sales, there are still amazing sedans available at your local dealership. Two of the best are the 5-Series and its big brother, the 7-Series. Both sedans offer incredible opulence and a long list of features, but which one is the better vehicle overall? Continue reading to find out.
See a side-by-side comparison of the 5-Series & 7-Series »
What the 5-Series Gets Right
Being the 7-Series' little brother, the BMW 5-Series has a significant pricing advantage. The 2019 5-Series starts from $54,395 (all prices include the $995 destination fee), making it a whopping $30,250 cheaper than the base 2019 740i. In fact, buyers could move all the way to the range-topping M550i xDrive and still save $9,200 relative to the base 7-Series. And for buyers who live in the city, the 5-Series' smaller body makes it easier to zip in and out of traffic or into a tight parking space.
Though the 5-Series gives up a lot in rear roominess, it's still quite a comfortable sedan. Much like the far more expensive 7-Series, 5-Series models boast road-trip-ready front seats with plenty of room for people of all sizes. Plus, there's not a huge equipment penalty, as the 5-Series comes standard with plenty of top-level features like 17-inch wheels, a moonroof, power front seats, dual-zone climate control, an 8.8-inch instrument cluster display, LED headlights, a 10.2-inch infotainment screen, and much more.
Under the hood, once you move up to the 540i, the 5-Series takes over in terms of straight-line performance as its 335-horsepower, turbocharged six-cylinder engine pushes the smaller-bodied 540i to 60 mph half a second quicker than the base 740i. Plus, the M550i is unmatched until buyers dig deep into their bank accounts to buy the insanely priced M760i ($159,395 starting price).
What the 7-Series Gets Right
The 7-Series boasts a slightly more modern look than its little brother, thanks to mild tweaks it received recently. But where the 7-Series really shows its stuff is in the rear seats. With 44.4 inches of leg room and 57.7 inches of shoulder room, this is the perfect car for someone who spends more time as a rider than a driver or who shuttles around business associates frequently.
Also, that extra $30,000 you're paying for the 7-Series goes into more than just a larger footprint. It also adds more-premium standard features, like real leather upholstery, 18-inch wheels, a 16-speaker Harman Kardon audio system, a 12.3-inch driver-information display, a 10.2-inch touchscreen, and a dual-pane sunroof. To call the 7-Series loaded would be an understatement.
Performance from the base 740i rings in a winner with its standard 320-hp, 3.0-liter six-cylinder engine sprinting this big sedan to 60 mph in just 5.4 seconds. This sprint time drops as buyers move up the trim-level ladder and ends with the supercar-like 3.6-second sprint in the V12-powered M760i.
Tight Budget? Go With the 5-Series
If your budget can't quite handle the pricey 7-Series lineup, the 5-Series is a great consolation gift. You can save a ton of cash – even if you load it up – and still have the prestige that comes with driving one of the best sedans Bimmer builds.
Verdict: BMW 7-Series
Yes, the 7-Series is insanely priced, but that huge price tag comes with plenty of benefits. From its potent powertrains to its roomy back seat and desirable features, the 7-Series is well worth the premium.
Take a closer look at the BMW 5-Series »