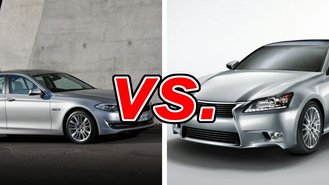 As far as midsize luxury sedans go, the BMW 5 Series has -- year after year -- been the driver's choice. It has earned its reputation through several iterations, each a balanced blend of luxury and performance. In the process, the 5 Series always fought off challenges from pretenders, like the Lexus GS.
See a side-by-side comparison of the 528i & GS 350 >>
Thing is, Lexus' fourth-generation GS 350 is more sharp and focused than ever before. Does it finally topple the latest BMW 528i?
What the BMW 528i Gets Right
In addition to being luxurious and fun to drive, recent BMWs have improved upon previous versions with more space and better efficiency. The 528i incorporates a highly efficient 2-liter turbocharged four-cylinder engine with 240 horsepower.
While that's less than the Lexus' V6, it's lighter and gets up to 33 MPG on the highway, as well as delivering lots of punch.
What the Lexus GS 350 Gets Right
The GS350 may not have the out-and-out sportiness of the BMW, nor the economy of turbo four -– highway MPG is only 28. But its V6 is a model of refinement, and its interior has more space and more attention to detail than the BMW's.
While the base sticker prices are relatively close together, the Lexus comes standard with more equipment.
Is the Lexus Better than the BMW?
Not quite. As comfortable -- and arguably soft -- as the 528i has become, its driving dynamics still have an edge on almost all of its competitors. And that includes the latest GS350. The BMW's lighter weight and sharper reflexes make it more involving, but no less quiet or cosseting on long trips. Also, 5 Series styling seems more unified than the sometimes-odd details on the new GS.
Our Verdict: BMW 528
While Lexus has gotten closer to toppling the BMW 528i, it hasn't quite done it this time around. The efficient, quiet, comfortable BMW may have dulled some of its dynamics over the years, but it's still a very well-rounded luxury sedan.
Take a closer look at the BMW 528i >>