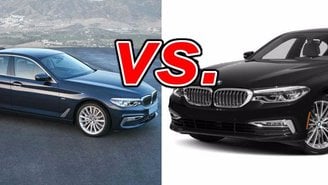 You're sitting at the BMW dealer debating between two versions of the 5-Series; yeah, life is pretty good. In all seriousness, though, choosing between the lower priced 530i and the more powerful 540i can be tricky. Fortunately, it all boils down to what's most important to you: power or amenities.
We broke down the 530i and the 540i to find out which we feel is the better buy, and the verdict may surprise you.
See a side-by-side comparison of the 540 & 530 »
What the 530 Gets Right
At $53,395 (including $995 destination fee), the BMW 530i has the upper hand in pricing against the 540i by a whopping $5,300. This leaves a lot of room for options, like the Luxury Design or M Sport Design packages, Premium Tier or Executive Tier, or other upscale standalone options.
While the 530i's 2.0-liter four-cylinder engine cannot match the 540i's inline-six, it does have a distinct advantage in fuel economy. The 530i's rated at 24 miles per gallon city, 34 highway, and 27 combined, while the 540i is rated just 21 mpg city, 30 highway, and 24 combined.
Feature for feature, the 530i lineup almost perfectly aligns with the 540i, save for a few appearance items and upholstery, further enhancing the value the 530i offers when compared to its higher-spec sibling.
What the 540i Gets Right
The big improvement when opting for the 540i is its 3.0-liter inline-six engine, which pumps out 335 horsepower, besting the 530i by 87 hp. This added power launches the base 540i to 60 mph in just 4.9 seconds, which is 1.1 seconds quicker than the base 530i.
While the features align nicely between the 530i and 540i, the latter has one key standard feature the 530i does not, and that's supple Dakota leather upholstery. The 530i leaves buyers with standard leatherette upholstery -- BMW's faux leather is good, but it's nowhere near as nice as the Dakota leather.
If Speed is All That Matters Get the 540i
It's a tough call between the 530i and 540i, but the 530i is a better fit for the typical luxury car buyers. That said, if speed is in your blood, the 540i's added performance may be right for you.
Verdict: BMW 530i
With the big gap in pricing and all the additional features you could include with that extra cash, the 530i is a great buy relative to the 540i. Add to that the solid gap in fuel economy between the 530i and 540i, and it's clear why the 530i is the better buy.