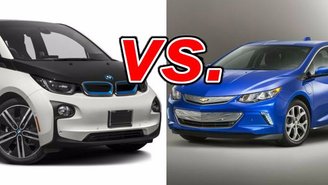 Outside, the BMW i3 features a dramatically designed shell with an iconic BMW two-piece grille; inside, you'll find recycled materials, as well as advanced technologies. In short, it looks like it came from the future. So did the original Chevrolet Volt. But after a recent redesign, the Volt has more conventional styling.
But which is the better choice for the eco-friendly buyer?
See a side-by-side comparison of the i3 & Volt »
What the BMW i3 Gets Right
Thanks to updated battery technology, the i3 can now travel up to 114 miles on a single charge, a 40 percent increase over last year. With the available range extender, you're good to go for up to 180 miles. The futuristic interior features a "floating" center touchscreen, two-tone upholstery and trim, and all the comfort and safety technology you expect in a BMW.
What the Chevrolet Volt Gets Right
Volt received a full redesign last year that made vastly better-looking inside and out. Standard features include keyless ignition, LED exterior lighting, and a six-speaker sound system. The Volt is equipped with two electric motors, which together produce 149 horsepower. The vehicle is rated to travel up to 53 miles on electric power alone. After this, the gas generator starts and feeds the battery. The Volt gets 42 mpg in combined driving with the generator in use. The main selling point here is range. The Volt's onboard generator allows it to travel up to 420 miles.
Can the Volt Compete with the BMW's Reputation?
Although the BMW i3 costs $10,000 more, it can take you a lot farther without using fuel. However, if you need the range of conventional vehicle, you'll need to go with the Volt.
Our Verdict: BMW i3
The BMW i3 brings a lot to the table, from a futuristic exterior shell to a luxurious, technologically-advanced interior. The Volt score well on range, but the BMW tops it just about every other area.
Take a closer look at the BMW i3 >>