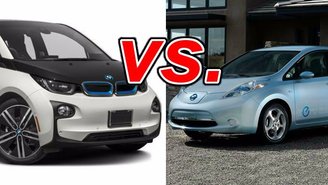 The BMW i3 is a fun, little electric car that looks like a vehicle from the future. The exterior is boxy, yet flies the same quality flag the BMW is known for. The cabin features quality material all around and even a two-tone option. The suicide-style doors give this EV a lot of character.
The Nissan Leaf received several improvements last year, including greater driving range. On the outside, the Leaf is smooth, with soft edges all around, making it look kind and environmentally friendly. On the inside, the Leaf gives you various options, from an elegant all-white interior, to leather seats all around. The Leaf is gaining in popularity every year and raises the bar for compact EVs.
The Leaf is quite impressive, but can it compete with the BMW's legendary quality?
See a side-by-side comparison of the i3 & Leaf »
What the i3 Gets Right
The i3 can travel up to 114 miles on a full charge, which is quite impressive for an all-electric car. Charging takes approximately 4.5 hours on a home charging station. The available range extender increases driving range to 180 miles. The interior of the i3 is constructed of recycled materials wherever possible. This is the ultimate environmentally friendly car.
What the Leaf Gets Right
The Leaf operates exclusively on an electric motors, fed by a lithium-ion battery pack. Driving range for the base model is 84 miles. The uplevel SV and SL models can travel up to 107 miles due to their larger batteries. The Leaf comes with impressive standard features such as a rearview camera, a suite of smartphone apps, heated mirrors, a heated steering wheel, and LED headlights. A regular 120-volt outlet will fully charge the battery in 15 hours; however, a 240-volt system will take a fraction of that time.
Can the Nissan Leaf compete with the BMW i3?
Although the Leaf is an excellent EV, the BMW i3 features longer range and better overall quality.
Our Verdict: BMW i3
The BMW i3 is quite impressive when it comes to range, quality, and drivability. We consider it a benchmark of the EV class.
Take a closer look at the BMW i3 >>