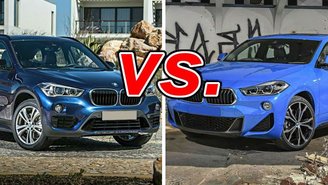 With hyper-niche models taking over the world of luxury cars, you may find yourself at a BMW dealership trying to choose between the X1 and its newer sibling, the X2. While it may seem virtually impossible to choose between these two similar crossovers, there are distinct differences that put one over the other.
Continue reading to find out which we feel is the better buy.
See a side-by-side comparison of the X1 & X2 »
What the X2 Gets Right
The BMW X2 kicks things off with a new take on the BMW design language, giving it a distinct look next to the X1. Though the X2's power comes from the same 2.0-liter turbocharged inline four-cylinder as the X1, it separates itself in the chassis where the X2 boasts a more sport-tuned suspension.
For a coupe-like crossover, the BMW X2 has decent room in the rear seats: 36.7 inches of rear leg room, 37.1 inches of head room, and 53.9 inches of shoulder room.
What the X1 Gets Right
The BMW X1 sits just below the X2, so buyers can save $2,500 by choosing it over its sportier sibling. Its rear seats are also more comfortable for tall people thanks to its 37 inches of leg room and 39.4 inches of rear head room. The BMW X1 is also a better hauler than the X2, thanks to its up to 58.7 cubic feet of cargo room – the X2 has just 50.1 cubes.
For those who prefer BMW 's older styling, the X1's less angular design language will be more appealing.
Tight on Cargo Room? Get the X1
Though the X1 can't quite squeeze out a win against its newest sibling, there are plenty of buyers who would prefer it, especially those who do a lot of cargo hauling.
Verdict: BMW X2
The BMW X2 only gives up a little in roominess compared to the BMW X1, but the stiffer suspension and new look combine to push the X2 just ahead of the X1.
Take a closer look at the BMW X1 »
Take a closer look at the BMW X2 »