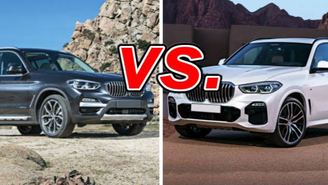 BMW crossovers come in no less than four sizes, with the X3 and X5 smack in the middle. The BMW X3 competes in the senior compact segment, offering everyday versatility with a trim footprint. The BMW X5 is a true mid-size crossover with hearty cargo capacity and available seating for seven.
Does the X3 get the job done just fine, or is the larger X5 a better value?
See a side-by-side comparison of the X3 & X5 »
What the X3 Gets Right
With its standard four-cylinder turbocharged engine, the BMW X3 wins on efficiency, delivering an EPA-estimated 27 miles per gallon in combined driving. The X5 is rated at 23 mpg combined, a difference large enough to be felt at the pump. The X3's relative leanness results in snappier handling and easier maneuvering in congested spaces.
For buyers with a taste for real performance, the M Performance version of the X3 packs a six-cylinder turbo motor with 382 horsepower. That's serious output for this class, and a good measure more than the X5's base engine.
There's no penalty in luxury or technology for going smaller. Although the X5 carries a few more standard features, the X3 can be equipped with every indulgence available on the X5, including BMW's tech-heavy Executive Package.
What the X5 Gets Right
The BMW X5's longer wheelbase really pays off in terms of rear legroom and cargo space. There's even room for an optional third row, which boots seating capacity to seven, provided two are children.
With five aboard, the X5 can handle up to 33.9 cubic feet of cargo, whereas the X3 provides 28.7 cubic feet. The difference becomes significant with the rear seat folded. The X3 tops out at 62.7 cubic feet, which seems a tad stingy next to the X5's 72.3 cubic feet.
The X5 comes standard with a turbocharged six-cylinder engine that produces 335 hp, versus 248 hp from the X3's four-cylinder. Buyers can also choose from two twin-turbo V8 engines with 456 and 523 hp, respectively. Both provide eye-opening acceleration for a vehicle of this size.
Which Size Is Just Right?
While the BMW X3 trails in overall utility, it gives up nothing to the BMW X5 in luxury or features. Many drivers will prefer its manageable dimensions and four-cylinder efficiency over the X5's space and power. That said, buyers looking for a top-notch, do-it-all family vehicle will certainly find it in the X5.
Our Verdict: BMW X3
For buyers who can live without three rows or V8 power, the BMW X3 is the more sensible choice.
Take a closer look at the BMW X3 »