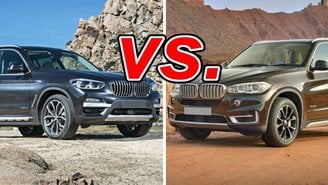 BMW's long-running compact crossover, the X3 has been treated to a full redesign, featuring updated styling and a boost to performance. As good as that sounds, some buyers might be more satisfied with the brand's larger X5, which has been on the market in current form since 2014.
In this case of freshness versus utility, which BMW crossover earns our vote?
See a side-by-side comparison of the X3 & X5 »
What the X3 Gets Right
The X3 displays the latest interpretation of BMW's kidney grille and smoother sides this year. The changes are subtle, but have a modernizing effect. All-wheel drive is now standard, and the system has been retuned for better stability and handling. With the rear folded, the X3 offers 62.7 cubic feet of cargo, a fine showing for a compact luxury crossover.
The standard turbocharged 2.0-liter four-cylinder engine develops 248 horsepower and 258 lb-ft of torque. For the first time, there's an M Performance version of the X3, powered by a 3.0-liter six-cylinder turbo with 355 hp and 369 lb-ft of torque. That makes the M40i trim the fastest X3 ever produced. Both engines come with an eight-speed automatic transmission.
What the X5 Gets Right
While the X5 appears reasonably trim for a family vehicle, it's a good measure larger and heavier than the X3. The difference is especially evident when it comes to rear legroom and cargo capacity. The X5 can handle up to 35.8 cubic feet of stuff with the rear seat in place, and 76.7 cubic feet with it folded. That places it solidly in the midsize class. There's even an optional third row for seven-passenger seating, but at least two of them will have to be children.
The X5 starts out with rear-wheel drive, although most buyers opt for all-wheel drive. BMW's familiar turbocharged 3.0-liter six-cylinder provides 300 horsepower and 300 pound-feet of torque. The available turbodiesel 3.0-liter provides a boost in efficiency without any loss in performance. Buyers can also choose a twin-turbo 4.4.-liter V8 with up to 567 hp and 553 lb-ft of torque.
Does Bigger Mean Better?
While the X3 has limitations when it comes to utility, we don't find it particularly small or lacking in luxury. Buyers who don't need the X5's extra space will be rewarded with easier maneuverability and standard four-cylinder efficiency.
Our Verdict: BMW X3
The latest X3 makes more sense for all but the largest families.
Take a closer look at the BMW X3 »