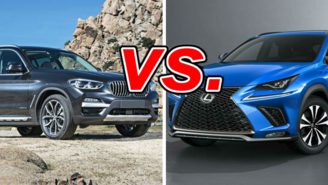 Buyers have a range of priorities when it comes to luxury crossovers, which is why the BMW X3 and Lexus NX keep racking up sales – despite their obvious differences. The X3 promises superior driving dynamics, while the NX concentrates on features and passenger comfort. Both models were updated last year to reinforce their respective strengths. Which formula for creating a winning luxury crossovers works better for us?
See a side-by-side comparison of the X3 & NX »
What the X3 Gets Right
The X3 adheres to the BMW tradition of rear-drive architecture, alert suspension tuning, and balanced weight distribution. The result is a driver-focused crossover that handles like a compact sport sedan. The available all-wheel-drive system is designed to enhance stability and response, in addition to providing all-weather traction.
The turbocharged 2.0-liter four-cylinder engine musters up 248 horsepower and 258 pound-feet of torque. The X3 delivers an EPA-estimated 23 miles per gallon city, 30 mpg highway, and 26 combined with rear-wheel drive, or 22/29/25 mpg (city/highway/combined) with all-wheel drive. An eight-speed automatic transmission comes standard.
For buyers who want to max out on power and handling, BMW offer the M40i version of the X3, equipped with a 3.0-liter six-cylinder turbocharged engine with 355 hp and 369 lb-ft of torque. According to BMW, the X3 M40i goes from zero to 60 mph in a scant 4.6 seconds.
For all its performance potential, the X3 doesn't disappoint when it comes to versatility. It can handle 28.7 cubic feet of cargo with rear seat in use, or 62.7 cubic feet with it folded.
What the NX Gets Right
The NX offers even more standard equipment this year, reinforcing the position as a relative bargain in this class. Buyers pay nothing extra for features like active lane keeping assist, front collision mitigation, or a touchpad control interface.
The 2.0-liter turbocharged four-cylinder sends 235 hp and 258 lb-ft of torque to the front wheels. A six-speed automatic transmission does the shifting. The NX is EPA-rated at 22/28/25 mpg. All-wheel drive is optional, at the expense of one mpg in combined fuel economy. For about the same price, buyers can get a hybrid version of the NX, which comes standard with all-wheel drive and achieves 33/30/31 mpg.
For a crossover of its size, the NX excels in rear-seat comfort. There's legitimate room for three adults, and two can stretch out and relax on long-distance trips. The NX can hold 54.6 cubic feet of cargo with the rear seat folded.
The Bottom Line
The BMW X3 gives up nothing to other small crossovers in the performance department, yet there's no penalty to paid in either versatility or efficiency. The Lexus NX counters with more comfort, luxury, and equipment than most competitors can deliver for the price.
Our Verdict: BMW X3
The BMW X3 covers all the important bases without compromising its performance edge.
Take a closer look at the BMW X3 »