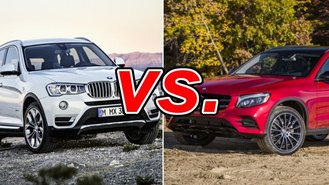 As its model designation suggests, the sporty compact X3 fits right between BMW's X1 and X5 crossover SUVs. Made in South Carolina, the graceful X3 is a fitting choice for smaller families. First introduced for 2004, the X3 was redesigned for 2011. Like many in this league, the X3 is meant for highway driving more than rugged off-road ventures. BMW's iDrive controller was upgraded in 2015, adding a touchpad, and more active-safety features became optional.
New for the 2016 model year, the GLC300 replaces the previous GLK-Class, occupying the larger end of the crowded compact luxury-crossover category. While the departed GLK was square and angular in profile, the new GLC-Class is a lot rounder, created with softer and sleeker edges. Structurally related to C-Class sedans, the GLC300 has standard fatigue alert and frontal-collision warning.
See a side-by-side comparison of the X3 & GLC300 »
What the BMW X3 Gets Right
Comfortable and capable, as well as pleasantly luxurious, BMW's X3 stands at or near the pinnacle of the luxury-crossover category in just about every way. Carlike ride and handling qualities are just the beginning. Three engines are available: a 2-liter turbocharged four-cylinder in the rear-drive sDrive28i and xDrive28i (all-wheel drive); 3-liter turbo six-cylinder in the xDrive35i; and 2-liter turbodiesel in the xDrive28d. Each drives an eight-speed automatic transmission.
With the six-cylinder engine, an X3 can reach 60 mph in a brisk 5.3 seconds. Fuel economy, as expected, is best in the diesel: an estimated 27 mpg city/34 mpg highway. With either rear- or all-wheel drive, the 240-horsepower 2-liter version gets a 21/28 mpg (city/highway) estimate, while the six-cylinder model manages 19/27 mpg. Cabin detailing is appealing, but BMW's stop/start system is not.
What the Mercedes-Benz GLC300 Gets Right
Available with either rear-wheel drive or 4Matic all-wheel drive, the GLC300 gets a nine-speed automatic transmission. Its turbocharged 2-liter four-cylinder engine develops 241 horsepower and 273 pound-feet of torque. As a fuel-saving measure, Eco mode permits extended coasting. Fuel economy is about average, EPA-estimated at 22 mpg in city driving and 28 mpg on the highway. All-wheel drive drops the city figures to 21 mpg.
The GLK's chiseled look is gone. Differences between that model and the new GLC reach beyond the visual, starting with a wheelbase that's grown by nearly 5 inches. That increase adds back-seat legroom, plus a larger cargo floor. Up front is a clean-looking dashboard, within an attractive and quiet cabin.
Does BMW's midlevel crossover have what it takes to overcome new Mercedes-Benz?
On the market for a dozen years, the X3 is one of the sportiest examples in this class, augmented by a choice of engines.
Our Verdict: BMW X3
Tempting as the GLC300 is, BMW is still the one to beat in this busy premium category—though we're not happy with the harshness of the stop/start system.
Take a closer look at the BMW X3 »