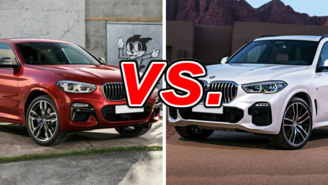 Crossovers and SUVs are some of the best-selling models at dealerships, and BMW isn't immune from this trend, hence it dabbling in the newest crossover fad with the X4 crossover coupe. Can this sporty and unique take on the modern crossover complete with its popular big brother, the BMW X5, in a head-to-head shootout? Find out below.
See a side-by-side comparison of the X4 & X5 »
What the X4 Gets Right
Being the X5's understudy, the BMW X4 has a $10,250 price advantage over its big brother. This gives buyers more flexibility in adding options, or they can pocket the savings. The X4 also pushes the crossover design forward with its unique coupe-like look that features raked rear glass, though some may find this look a little over the top.
In its base format, the X4 is slower than the X5, but the M-touched X4 M40i's 355-horsepower six-cylinder engine delivers the same 4.6-second zero-to-60 mph sprint as the range-topping X5 xDrive 50i. The X4 M40i also has the M-treatment to its chassis, giving it tighter handling and a more tossable personality than the X5.
What the X5 Gets Right
The BMW X5 rolls in with a more traditional look that some buyers may prefer. This look also eliminates the rear head room issue the X4's raked roofline causes, giving the X5 an extra 1.5 inches of head room in the rear seats. On top of the extra head room, the BMW X5's 37.4 inches of rear leg room and 58.1 inches of rear shoulder room beat the X4 by 1.9 and 2.1 inches, respectively.
Inside, the BMW X5 is among the most comfortable SUVs in its class with its spacious and well-padded seating. It also delivers 33.9 cubic feet of cargo room behind its rear seats or 72.3 cubes with the seats folded. It rounds out its comfortable ride with a slick chassis that is sporty enough to handles corners but still soft enough to absorb road imperfections and reduce cabin noise.
Under the hood, the BMW X5 is more powerful than the X4. The standard 3.0-liter inline-six engine cranks out 330 hp and 335 pound-feet of torque, and the xDrive 50i's 5.0-liter V8 engine pumps out 456 hp and 478 lb-ft of torque.
One Point for Uniqueness in the X4
The BMW X4 isn't quite the SUV the BMW X5 is, but it's perfect for buyers looking for that added dose of uniqueness with its coupe body style. Also, the M40i trim gives the X4 the M treatment the X5 lacks.
Verdict: BMW X5
The BMW X5 is one of the best luxury SUVs for good reason. It not only offers loads of room and potent powerplants, it's also obscenely comfortable and boasts traditional good looks.
Take a closer look at the BMW X4 »