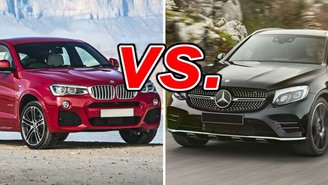 For buyers who favor style and performance over outright utility, BMW serves up the intriguing X4, a compact crossover with the profile of an elevated coupe. Last year, Mercedes-Benz countered with a fastback crossover of its own, the GLC-Class Coupe. Both have four doors and room for five passengers, if not the cargo capacity of their conventionally styled stablemates.
We found the X4 and GLC Coupe to be classy, nimble, and sufficiently rugged. But which of these premium rides impresses us more?
See a side-by-side comparison of the X4 & GLC-Class »
What the X4 Gets Right
We've seen plenty of high-end sedans with coupe styling, but the X4 is one of the few crossovers that pulls it off. The design limits cargo room to a hatchback-like 49.4 cubic feet, but it also makes the X4 stand out in a sea of tough competitors.
All-wheel drive comes standard on the X4, along with a turbocharged 2.0-liter four-cylinder engine with 240 horsepower and an eight-speed automatic transmission. Adventurous buyers can upgrade to the M40i variant, which carries a bundle of hardware upgrades, including a twin-turbo 3.0-liter six-cylinder engine with 355 hp. The M40i treatment gives the X4 performance credentials that even surpass its sporty looks.
What the GLC-Class Gets Right
The GLC Coupe follows the same design approach as the X4 — take a compact crossover and turn it into something that resembles a four-door coupe. The GLC's body is slightly longer and leaner, and ends with a flatter rear deck that could almost pass for a trunk lid. The extra inches are evident in the GLC's backseat, which can accommodate three adults without inducing squirms. With the seat folded, cargo space is dead even with the BMW at 49.4 cubic feet.
The lineup starts with the GLC300, powered by a turbocharged 2.0-liter four-cylinder that delivers 241 hp and 273 pound-feet of torque. The GLC43 AMG gets a 3.0-liter twin-turbo V6 that pumps out 362 hp and 385 lb-ft of torque, plus upgraded suspension and braking systems. All GLC models come with all-wheel drive and a nine-speed automatic transmission.
Where's the Difference?
There's no denying the X4's visual appeal and the uniqueness of its design. In the aesthetics department, it packs quite a punch. Even so, we suspect some shoppers will prefer the GLC's less startling appearance, and nearly everyone will appreciate its roomier rear quarters.
Our Verdict: Mercedes-Benz GLC-Class
The GLC Coupe does a pretty seamless job of bridging the gap between sports coupe and luxury crossover, which is no easy feat.
Take a closer look at the BMW X4 »